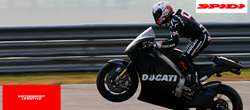 "This decision...is mutually beneficial for the future development of the Spidi brand" Motogear
Glasgow, Scotland (PRWEB UK) 31 July 2014
Nobody does fashion like the Italians, and heritage design house Spidi is no exception. Spidi motorcycle clothing is one of the Big Three Italian motorcycle brands, famous for their excellent product technology and creative innovation since their 1977 original line, manufacturing exclusive race gloves for motorsport.
After 12 years of successful business with Motogear, Spidi have announced that they are ceasing their longterm partnership in favour of a UK based distributor. There are doubtless several large UK motorcycle distributors in strong competition for this prestige brand.
Leading UK online and in-store retailer Firecrest Motorcycle Outfitters have announced that they will remain a Spidi stockist for the foreseeable future, and support the Italian company's decision to remodel their UK distribution channel.
Spidi's attention to style and technical apparel is legendary; adhering to the highest quality standards, giving motorcycle riders across the globe peace of mind whether racing, touring, or simply out and about in the city. Spidi have, over the past 35 years, led the way in the development of truly ground-breaking pioneer products such as their DPS airbag line, and have assured their fans that they will continue to innovate.
The UK motorcycle market is growing in strength and post-recession optimism. The numbers of motorcycle registrations are up, especially in the leisure market. This up-turn in the industry can partially be accredited to the enduring popularity of classic bikes, the resurgence of international motorcycle sport, and an increasing motorcycle touring market. The recent announcement from Spidi is sure to make waves in a fast evolving industry.