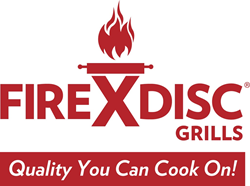 Explore a world of grill master perfection.
Katy, Texas (PRWEB) October 05, 2015
FireDisc Grills®, specializing in making the best and most versatile outdoor grill on the market, will be exhibiting at 2015 Do it Best Fall Market Show.
Visit FireDisc Grills® at the 2015 Do it Best Fall Market Show, to be held at Indiana Convention Center, IN from Oct 9 – 12, 2015. Do it Best Fall Market is a hardware retail trade event organized by Do it Best Corp. Do it Best Corp. is the only U.S. based, member-owned comprehensive and fully integrated hardware, lumber and building materials buying cooperative in the home improvement industry.
Every year in October, thousands of Do it Best Corp. member-owners converge in Indianapolis, Indiana, for the Do it Best Fall markets. The market features thousands of vendors exhibiting their latest new products and innovations in the hardware industry. The market also provides an opportunity to learn the industry-leading retail programs and services Do it Best Corp. offers, the latest consumer trends, building forecasts, industry info, and best business practices.
FireDisc Grills® will exhibit at Booth #450 and will have on display all current and new FireDisc products, covers, hoses, new cutting boards, spatulas adapters, FDG swag and many parts and accessories. The products are designed in the USA and made from non-corrosive ultra-high carbon steel. FireDisc's are currently available in two colors, and have a 5 year limited warranty.
The FireDisc® bbq gas grills are hand inspected and is made from the highest quality carbon steel available in production today. With the fast moving outdoorsman in mind, each grill is mechanically designed with ease of use and portability. Each of these grills are powder-coated at over 450 degrees, which sustains only the toughest protection against the elements and will not, break, dent, nor bend.
Discover a world of versatility, flavor, and easy maintenance with both the full-size 36" and the 24" mini models at the show. With each of these hand crafted grills manufactured to precise specifications, the FireDisc® grill has no screws, nuts, or bolts to worry about breaking or falling off. The grill collapses down to 3 pieces and lays flat in any car truck, sports utility vehicle, RV or truck bed.
Reasons to use a FireDisc Grill

Unmatched Versatility
Portability
Durability
Inexpensive to Operate
Easy Clean Up
Chef Tested & Approved
Whether planning a summer barbecue, camping for the weekend, or tailgating at the football game on a Sunday afternoon, the rough and tumble FireDisc is ready to grill. Check out the full selection of grill products, FDG Swag and accessories online at http://store.firediscgrills.com.
About FireDisc Grills
In 2010, two brothers armed with a makeshift tractors plow disc, and a welding shop for hire, set out to make a grill that was not only portable as well as durable, but also designs a grill that could out-cook, out-perform and outlast any other gas grill on the market. Out of this passion and desire for a high-tech design…the first FireDisc® Grill was born.
The Brothers believed that quality grills are not just made, but are born out of generations of time-tested cooking surfaces that would actually improve in taste and quality each time the grill is fired up. The patent pending porous qualities of the FireDisc surface do just that…enhance, improve and lock in the flavor of each meal cooked on FireDisc by this surface technology only available from FireDisc. These inherent qualities are built and tested from the ground up by experienced chefs, outdoorsman, and barbeque enthusiasts who eat, breathe and sleep top notch cooking. Out of this extreme entrepreneurship and passion… FireDisc Grills® was formed with 3 goals in mind.
1. Versatility: Make the most versatile grill on the market
2. Portability: Make a portable grill anyone could use
3. Chef Tested & Approved®: Make a grill would cook the premier expectation of restaurant quality food
Years later and thousands of grills sold worldwide, every FireDisc® owner believes they have achieved their goals. For more information visit http://www.firediscgrills.com.