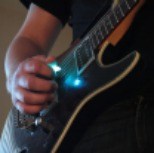 The core idea is that there aren't many lighting effects out there that are so intimately tied to the music.
San Francisco, CA (PRWEB) August 06, 2013
Founders Peter Holm and Brandon Williams launched a crowdfunding campaign on July 10th to help produce a LED flashing guitar pick, and reached half of their funding goal of $30,000 within the first three days on Kickstarter. And because the campaign has been so successful, Holm and Williams are looking to make the guitar pick even better for their fans and supporters – which means extending the battery life and reducing the size.
The team has been working on getting their supply chains finalized for production, and made the decision to go with a more expensive, lithium polymer battery which is easier to acquire and has higher performance than the previous battery. The new battery is flexible and has two times more battery life than the current prototype. Additionally, Homes and Williams intend to custom order the batteries which will allow them to drop the size of the Firefly Pick X/Y dimensions down to a standard guitar "#351" pick.
Having raised nearly $30,000, the Firefly Pick proves to be the simplest and most mesmerizing visual effect in a guitarist's arsenal, creating a rhythmic light show synchronized to music as it's being played. The pick's accelerometer senses playing motion, whether fast or slow, and essentially creates a link between the lights and music being played. With nearly instantaneous response time, it can dynamically adjust as a player slows down or speeds up while playing.
"The core idea is that there aren't many lighting effects out there that are so intimately tied to the music. So, we wanted to take the idea of an LED guitar pick and just blow people's minds," says Firefly Pick co-founder Peter Holm.
When the campaign exceeded expectations, Holm and Williams sat down with the intention of making the Firefly Pick even better than their current prototype. And the best part of it all; they listened to their supporters and fans by improving upon two of the most requested feature changes.
To learn more about the Firefly Pick or help fund the project in exchange for a pick, click here on or before the crowdfunding campaign ends on August 14th 8:52am EST. Also, be sure to connect with the Firefly Pick on Facebook and Twitter @FireflyPick to stay up to date with the campaign, and learn about any new rewards and announcements.
About Firefly Pick
Founders Brandon Williams and Peter Holm of startup electronics company Capacitron focus on developing high performance and high quality products that push the boundaries of everyday electronics. Their newest device, Firefly Pick, is the thinnest rechargeable guitar pick for the music world. To learn more about Firefly Pick, visit http://www.fireflypick.com.