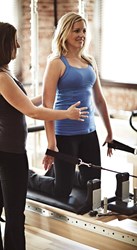 Denver, CO (PRWEB) January 30, 2014
Firehaus Pilates is proud to host several new Pilates seminars starting at the end of January 2014 at their Pilates studio in Denver, CO.
Firehaus Pilates' owner, Rachel Algra, is hosting the studio's first Firehaus Pilates Women's Health Seminar on February 22nd. Firehaus Pilates encourages women of every stage of life to attend as they will address a full scope of issues ranging from pelvic floor dysfunction, pregnancy/postpartum, to the seemingly mythical flat tummy.
This 4-hour seminar will include educational information, labs to apply the new knowledge immediately, and mid-session goodies to keep everyone energized. Each participant will also take home a booklet outlining the materials covered as well as many exercises to assist individuals with their pilates at home! The cost is $100 per person and spots are limited. The Pilates seminar sign up begins February 1st (sign ups are via online at http://bit.ly/FirehausPilatesSignup and in the studio).
Firehaus Pilates is also introducing the new Pilates Cardio Boot Camp on Wednesdays at 6:30pm with Firehaus Pilates instructor Clare Harriman.
The Pilates Cardio Boot Camp is a great way to torch calories and see impressive results in a short period of time. This is an equipment-based class that includes traditional Pilates exercises and popular fitness moves. This barefoot boot camp adds an extra dimension of balance and core control without the risk of injury as well as reduced back and joint pain. Participants will see improved posture, alignment, body awareness as well as toned strong muscles. (Previous Pilates experience is required for this specific pilates seminar.)
Pilates instructor Rachel Algra also introduced the new Pilates Playground on Fridays at 12pm. Pilates Playground is an intermediate to advanced level mat class where Pilates participants learn to use all kinds of Pilates toys (weighted balls, rings, therabands, and rollers) to sculpt the muscles of the body, creating that desirable tone and muscle definition everyone strives for. In Pilates Playground, the focus is primarily on the shoulders, upper back, booty and abs.
Last, but not least, Firehaus Pilates' owner, Clare Harriman, will be hosting a Pilates Props Seminar on Saturday, May 10th to teach lessons on how to use small Pilates props at home (ie. foam rollers, knot outs, pinky ball).
The new Firehaus Pilates Studio location in Denver (at 3451 W. 38th Ave.) is a large studio with plenty of floor space, custom Pilates equipment, and offers a wide variety of Pilates classes and workshops. Catch the full class schedule and more information on Firehaus Pilates Studio at http://firehauspilates.com or call (303) 945-6951.