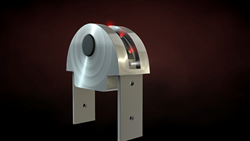 Where there is smoke there is fire, and where there is fire, there should be F.I.R.E. Lights.
Austin, Texas (PRWEB) May 06, 2015
Stout Industries is owned and operated by Ryan Stout, a former firefighter with El Paso and Austin, Texas fire departments. Stout Industries recently developed Fire-ground Injury Reduction Equipment (F.I.R.E.) Lights. There are three main components to these fire safety devices. The departure lights are bright white LED's that remain constant when the power is turned on. They light the area within 50 feet of the ladder allowing firefighters to clearly see what is on the roof, preventing leg and ankle injuries. In 2013 there were over 13,000 of these injuries equaling a total cost to the taxpayer of over $500 million. The Beacon Lights are bright amber Strobes that signal firefighters to the location of a ladder like an exit sign. This allows firefighters to focus on the job at hand while still being able to quickly locate the ladder when the time comes to evacuate or save a victim.The Window Punch Ribbon allows firefighters to use the ladder as a tool to break a window. This saves almost a full minute when entering a building, dramatically increasing the chance of finding and saving potential victims.
Stout Industries is trying to save firefighter lives one ladder at a time. Where there is smoke there is fire, and where there is fire, there should be F.I.R.E. Lights. Fire departments need these on every ladder in the country. There is no dispute that firefighting is a dangerous job. Stout Industries is trying to keep firefighters as safe as possible while they risk everything for all the citizens they protect.
This Kickstarter is running Kickstarter campaign to generate the funds to donate these units to departments in need. Over 70% of the firefighters in this country are volunteers working for departments that are underfunded and under protected. There is a problem. The solution is F.I.R.E. Lights. Firefighters should go home safe every day. Help make that a reality.