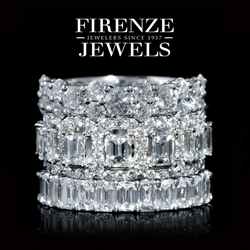 For a seamless feel, look for a wedding band with similar contours as the engagement ring and be sure to choose the same metal type.
New York, New York (PRWEB) June 11, 2015
With the 2015 wedding season in full swing, new bridal jewelry trends are emerging influencing the way consumers make their purchasing decisions. Located in the world's largest diamond hub, renowned New York Diamond District jeweler Firenze Jewels, shares some insight on the latest trends this year.
When it comes to engagement rings, the jeweler says clients are increasingly opting for fancy cut center diamonds such as cushion and asscher. These fancy cut stones are often being paired with classic style settings featuring modern clean lines. Platinum and white gold remain the top metals of choice, but combining white metal with a hint of rose gold has also been a growing trend. The halo setting continues to be a favorite engagement ring style, particularly among budget conscious couples looking to maximize a center stone's brilliance.
Some of the new engagement ring trends have been shaping selections for wedding bands as well. Firenze Jewels says clients are opting for eternity rings with fancy cut diamonds which match or compliment their engagement ring's center stone as well as bands with a hint of rose gold. The stackable ring trend has also influenced wedding ring selections as clients consider how a band fits with an existing piece. Antique style wedding rings continue to be favorite choice. There is still a great appreciation for pieces featuring elaborate milgrain detailing. Intricate etching and rose gold trends have also extended into men's wedding bands as well.
Firenze Jewels offers some tips on creating the perfect bridal ring set: "For a seamless feel, look for a wedding band with similar contours as the engagement ring and be sure to choose the same metal type. It's ok to get creative, but just note that a wedding band typically should not overpower an engagement ring."
For more information on Firenze Jewels and their 2015 bridal jewelry collection, please visit http://www.FirenzeJewels.com.
About Firenze Jewels
Jewelers since 1937, New York's Firenze Jewels has been the premier source for the finest hand crafted engagement rings, wedding bands, certified loose diamonds and designer jewelry from around the world. Today, Firenze Jewels continues to offer the finest designer jewelry from the most talented jewelry designers alive. For more information about Firenze Jewels, visit FirenzeJewels.com or follow FirenzeJewels on Facebook, Pinterest, or @FirenzeJewels on Twitter and Instagram.