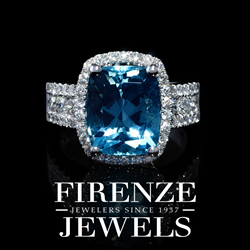 We think our customers will have a renewed interest in Aquamarine.
New York, New York (PRWEB) March 12, 2015
New York Diamond District jeweler Firenze Jewels leaps into the new season with fresh arrivals for both bridal and fashion in their Spring 2015 Jewelry Collection. Top trends in the collection include Art Deco inspired jewelry, bold gemstone earrings, statement diamond necklaces, and an assortment of stackable rings all priced well below retail.
The jeweler says popular gemstones for spring this year include soft cool hues such as pink and purple amethysts, as well as citrine stones. "We think our customers will have a renewed interest in Aquamarine. In addition to being a lead color for the season, it also pairs best with Pantone's Color of the Year Marsala."said Jeffrey Levin, CEO of Firenze Jewels. The new jewelry arrivals are on display in their Manhattan showroom and can also be ordered online through their website.
The Spring 2015 Jewelry Collection also reflects various styles seen trending at recent red carpet events. At the 2015 Oscars Naomi Watts, Gwyneth Paltrow and Jennifer Hudson lit up the evening with over-sized gemstone dangle earrings while Margot Robbie, Anna Kendrick and Cate Blanchett made bold statements with diamond necklaces and Art Deco jewels.
With wedding season quickly approaching, the company is also expanding upon its collection of bridal jewelry with new intricately designed diamond wedding and engagement rings.
Firenze Jewels is running a limited-time free shipping promotion for customers who apply the promotional code SPRING15 to orders at checkout. All jewelry in the Spring 2015 Jewelry Collection is in stock and ready to ship for quick delivery.
For more information on Firenze Jewels or their Spring 2015 Jewelry Collection, visit FirenzeJewels.com or call call 800-790-6980.
About Firenze Jewels
Family owned and operated jewelers since 1937, Firenze Jewels is located in the heart of the Manhattan Diamond District. Their staff, which includes talented designers as well as a graduate gemologist from the renowned GIA (Gemological Institute of America) on premises who collectively bring decades of knowledge and expertise to ensure every shopping experience is a positive one. Firenze Jewels carries the world's top designers, an extensive collection of G.I.A. and E.G.L. certified diamonds, and the most elegant and sophisticated wedding band, engagement ring, and jewelry collections.