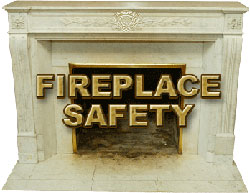 Practicing fireplace safety is the smart and safe way to enjoy a fire in the winter time.
Portland, Oregon (PRWEB) December 04, 2013
As winter approaches throughout the United States, many people are gearing up to once again begin using home fireplaces. A fireplace can be a good way to warm a home, while saving money on energy bills, and fireplaces also make a home cozier and more inviting. Despite the advantages of using a fireplace, there are safety hazards. The home security and alarm professionals at AlarmSystemReport.com, a site that provides reviews of the best alarm systems for home usage, have created a list of tips that will not only make fireplace use safer, but more efficient. Alarm System Report is an informative third party resource for home safety and security.
1. Only burn firewood that is cured and dried for anywhere from 8 to 12 months. A pile of wood should be covered on the top, but the sides should be exposed to air flow.
2. Only burn firewood. Don't burn anything else including cardboard, newspaper, or wood that's been painted. These materials can release toxic chemicals into the air of a home.
3. Close the damper when a fireplace is not in use. This prevents the escape of warm air, and can lower energy costs.
4. Before using a fireplace, always ensure smoke detectors are in proper working order, as well as carbon dioxide monitors. These are two very important components to any complete wireless alarm system, particularly when a fireplace is being used.
5. A chimney cap is a good investment because it prevents debris and weather elements from entering a chimney and it can also reduce the occurrence of downdrafts.
6. Have an operational chimney cleaned at least two times a year, if you use it frequently.
7. Build fires slowly, and add more wood gradually, as the fire begins to heat.
8. Don't overload a fireplace or attempt to build a fire that's too large. Larger fires generate not only more smoke, but can also damage a chimney.
9. Always use a spark guard. A metal screen or glass doors are vital to prevent sparks from flying out of the fireplace and leading to a home fire.
10. Keep all flammable objects at least three feet from the fireplace at all times.
About AlarmSystemReport.com
AlarmSystemReport.com is a trusted and relied-upon source of information about the home alarm industry. Residents of states around the country can find information, from Utah security systems to Vermont security systems. Information includes in-depth and unbiased reviews, news and industry updates, as well as valuable discount codes and coupons which can be used to save money on the purchase of a home alarm system.