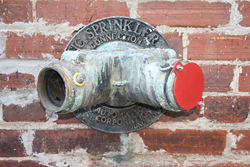 This is a conversation that more cities should be having, as the results of these decisions truly can have life and death consequences.
Los Angeles, CA (PRWEB) October 12, 2015
According to an article published by Texas Public Radio on October 7th, the Fire Chief for the city of San Antonio, Texas recommended that any high-rises in the city limits that do not have fire sprinkler systems installed be retrofitted to incorporate these important safety systems going forward. The article explains that it wasn't until 1982 that the city started requiring fire sprinklers in new buildings, so there are a number that still operate without them. According to George Saadian, the head engineer at Los Angeles fire safety firm Fire Protection Group Inc., this is a conversation that more cities should be having, as the results of these decisions truly can have life and death consequences.
In fact, the article explains that the conversation began in response to a fire last year that killed six people in a senior living apartment building that was not equipped with proper fire safety systems. Bob Holloway, a former fire Captain in the Los Angeles Fire Department and a current member of the Fire Protection Group Inc. team explains that, far too often, laws governing public safety are often only implemented in response to a tragedy, rather than being proactively implemented to prevent injury or death before it occurs. While this is upsetting, the whole Fire Protection Group team expresses that it is often inevitable, and other cities should look to San Antonio as a reason to adjust their own fire safety laws before a similar tragedy occurs in their own city.
It is also understandable, Mr. Saadian explains, why owners or managers of older buildings may get nervous at the prospect of having to retrofit their buildings with complex fire sprinkler systems without knowing how well a system can fit into their existing infrastructure. Yet, he adds that Fire Protection Group Inc. has years of experience designing, fabricating, and installing complex systems to work around the existing architecture of a building. Depending on their clients' needs, they explain that they can make both functional and aesthetic considerations while still giving clients a properly functioning system.
Fire Protection Group Inc. also notes that, in addition to designing and installing systems, they also provide necessary inspections for existing systems in the Los Angeles area. For more information about the work that Fire Protection Group Inc. does to promote fire safety, or to schedule an inspection or a system consultation today, call them at (888) 251-3488 or visit them online at http://www.FireSprinkler.com.