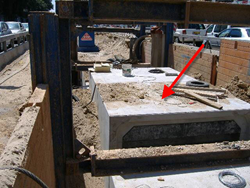 This was an appropriate response to the problem, and mirrors the typical cycle of safety inspections that occur across all manners of building safety.
Los Angeles, CA (PRWEB) August 20, 2015
According to an article published August 2 by Sun Times Network, nearly 30,000 Long Beach residents were left without power after potentially dangerous electrical vault explosions and fires rocked the area. The Southern California Edison power company immediately responded by dispatching its inspectors to examine all of the city's vaults to ensure that similar explosions do not occur in the future. According to George Saadian, the head engineer at fire safety firm Fire Protection Group, Inc., this was an appropriate response to the problem, and mirrors the typical cycle of safety inspections that occur across all manners of building safety. At the same time, he notes, it follows the pattern of building inspections being practiced as a reactive measure, rather than a preventative matter.
Mr. Saadian goes on to explain that one of the issues that slows down the process of getting buildings up to various building codes, particularly those involving fire safety, ironically is administrative red tape throughout the inspection and approval process. Mr. Saadian explains how, through various measures, Fire Protection Group Inc.'s expediting and consulting divisions work with building owners and managers to eliminate some of these unnecessary roadblocks and fast track safety systems and the city's approval of those systems.
1. Expediting - The first way that Fire Protection Group helps their clients expedite existing projects is through the deep knowledge and connections that the FPG team has gained through their years of relevant industry field experience. In addition to the engineering specialists like Mr. Saadian, Fire Protection Group is also home to Los Angeles Fire Department veterans such as Captain Bob Holloway and Chief Al Hernandez. As Mr. Saadian points out, these men know not only what systems are most effective at preventing fires, but also what needs to be done to get these systems approved by Los Angeles Dept. of Building and Safety (LADBS) or other relevant government entities.
2. Consulting – Even from a strictly advisory standpoint, notes Mr. Saadian, a partnership with his team can be incredibly valuable in designing systems that work exactly as intended. While having an in-depth background with relevant agencies is certainly a plus, a successful system is first and foremost one that works as intended. He points to the team's 200 years of combined experience designing, building, installing, and testing these systems as evidence that their projects can often sail through the inspection process even without this additional leg-up.
Making sure that buildings are up to code in all manners of safety is an incredibly important part of a building manager's job, says Fire Protection Group, Inc. Yet, they add, a partnership with them can make that job easier by clearing through some of the red tape that often prevents good intentions from yielding equally good results. Anyone interested in seeing what the team at Fire Protection Group Inc. can do for them can call the firm today at (888) 732-4200 or visit it online at http://www.firesprinkler.com.