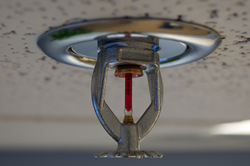 Both the economic and philosophical objections leveled against the plan can be dealt with by identifying common misconceptions about the initiative.
Los Angeles, CA (PRWEB) September 25, 2015
According to an article published by News Press, the village of Estero near Ft. Myers Florida is currently engaged in a spirited debate about the mandatory installation of fire sprinkler systems in new one and two family homes. While many in the community, as well as those in the fire safety industry and in various government agencies, are strongly in favor of the initiative, there are some vocal opponents in the community that have cited both economic and philosophical reasons for their opposition. According to Los Angeles-based fire safety firm Fire Protection Group Inc., while community discussion of fire safety systems is obviously more helpful than ignoring the topic entirely, it is important to clear up misconceptions surrounding the arguments against the new systems. According to Fire Protection Group Inc.'s lead engineer and general manager, George Saadian, both the economic and philosophical objections leveled against the initiative can be dealt with by identifying common misconceptions about the initiative.

Economics – The primary reason for the opposition, as noted by the article, is that residents fear that requiring fire sprinklers be installed in new construction projects would drive up costs and make living in the area more expensive. However, Mr. Saadian points to an estimate cited by the article that construction costs would only increase by around one percent. Another concern, that the fire sprinklers could result in damage due to accidental activation, was quashed by the Estero fire chief's assertion that "the chance for accidental activation is one in 16 million." Mr. Saadian also notes that the odds are much greater that a fire sprinkler potentially saves owners a truly significant amount of money by saving houses from burning to the ground.
Philosophical – In addition to economic oppositions, some citizens of Estero seemed to oppose the law not because they thought it was a bad investment, but rather because the idea of being forced to do something soured their sense of personal liberty. Mr. Saadian notes that this is a valid point, and that individual liberties should always be respected, yet this law is no different than the suite of building codes nearly every city in the country enforces to benefit public safety. The idea of construction costs increasing to meet city safety requirements has long been an accepted reality that has surely reduced the rate of accidents and injuries around the country, while also reducing costs from the rampant destruction of property. Mr. Saadian notes that it is peculiar that fire sprinklers, which have been proven time and time again to protect lives and property, are being subjected to such opposition when other building safety measures are not.
While the result of this debate will likely not have direct implications for many of Fire Protection Group Inc.'s clients in the Los Angeles area, the discussion is nonetheless one that is important to have. Any businesses or homeowners interested in seeing what Fire Protection Group Inc. can do to protect their building from a fire can call the firm today at (888) 732-4200, or visit it online at http://www.firesprinkler.com.