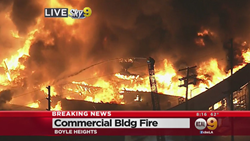 Mr. Saadian and the rest of the Fire Protection Group Inc. team conclude by adding that they are committed to spreading the message of fire safety and prevention.
Los Angeles, CA (PRWEB) April 14, 2016
According to an article published March 11th on the Los Angeles Times, nearly 200 firefighters struggled to contain a massive inferno which engulfed a one-story commercial building in L.A.'s Boyle Heights neighborhood. The author of the article notes that it is unclear what sparked the fire and that, fortunately, no injuries were reported.
According to Los Angeles based fire protection and consulting agency Fire Protection Group Inc., this incident points to the fact that business and property owners alike need to invest in a comprehensive fire sprinkler and building protection plan to prevent such dangerous and very costly incidents. They note that business owners too often underestimate the value of installing and maintaining a fire alarm and detection system, viewing them as liabilities and opting for minimal protection and paying insufficient attention to relevant fire codes. The agency explains that such systems are a requirement, and that businesses and property owners can actually reduce their insurance payments on buildings they install fire protection equipment in, not to mention potentially preventing enormous losses in the event of a fire.
George Saadian, Fire Protection Group Inc.'s lead engineer and general manager, notes that when it comes to fire safety, Fire Protection Group, Inc. has established a stellar reputation and an incredible amount of experience in maintaining worker and employee safety at offices, residential buildings, and more. That is why, they note, they are the go-to source for fire protection equipment installation, routine inspection, and consulting.
One of the most common fire protection systems that Fire Protection Group Inc. routinely provides its clients are fire alarms. The agency notes that, while the small, red control boxes that occupy many a wall within buildings often go unnoticed, they are often a legal requirement and their value is extraordinary in the event of an emergency. Fire Protection Group Inc. explains that the most comprehensive and significant parts of these systems, the backup power supply and control panel, are also typically out of sight – but their installation and maintenance can be both highly economical and truly life-saving. The agency additionally notes that, as a widely respected fire safety consulting firm, they routinely advise businesses which protection systems are most suitable for their building size and type, as well as which would provide maximum protection and legal compliance while paying due attention to the client's budget.
Mr. Saadian and the rest of the Fire Protection Group Inc. team conclude by adding that they are committed to spreading the message of fire safety and prevention. For more information about how residential property owners or businesses can take steps to comply with all relevant rules and regulations and protect their property from the outbreak of a fire, call Fire Protection Group Inc. today at (888) 251-3488 or visit their web site online at http://www.firesprinkler.com/.