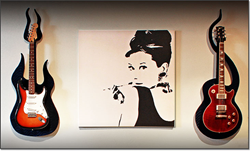 "It's very important to me that FireWalls are always made in the USA. Every guitarist knows this to be the mark of highest quality" Jessie Von Presley
Los Angeles, CA (PRWEB) July 10, 2015
The stylistic display frames guitars in a burst of velvet flames, and Von Presley has designed a FireWall specifically for each of the most popular guitar styles. Each solidly built guitar mount is made of wood and upholstered in the velvet color of choice, and each unit comes with the necessary mounting hardware. Installs easily as demonstrated in the FireWall installation video.
The FireWall guitar mounts are designed to accentuate the guitar giving each instrument a striking background, and to stand on its own as wall art. About his unique innovations, Von Presley said, "FireWall designs are a culmination of many of my passions; design, hot rods, and rock music - hence the flames."
FireWall Guitar Mounts are made in the USA, a quality that is very important to Von Presley. "It's very important to me that FireWalls are always made in the USA. Every guitarist knows this to be the mark of highest quality," he said. Available in a variety of colors, FireWall Guitar Mounts can be perfectly matched to the accompanying guitar or to contrast colors, also compliment the color theme of a home or studio.
The mounts allow guitars to rest close to the wall upon a velvet upholstered wood flame design that brings attention to the guitar, complimenting it in its shape and color. More information can be found at http://www.guitarmounts.com.
About FireWall Guitar Mounts:
FireWall Mounts are devilishly-styled protective guitar mounts that provide a flaming frame to showcase guitars and light up the room. FireWall Mounts were created by Jessie Von Presley, an LA rocker who exudes expertise in music, craftsmanship, and the desire to provide innovative music accessories to fellow musicians.