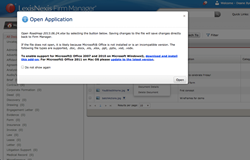 The ability to open and edit documents without having to download them first will save time, and thus money, making my practice more efficient and profitable.
Raleigh, NC (PRWEB) October 08, 2014
LexisNexis® Legal & Professional, a leading provider of content and technology solutions, announced today several enhancements to the LexisNexis Firm Manager® online practice management solution for independent attorneys. The new enhancements provide a range of simple tools to make the process of managing documents and matters easier for small law firms.
The showcase feature in this newest Firm Manager software release is "in-app" document editing. This allows an attorney to open, edit and save documents from within the Firm Manager application. The feature works with the Microsoft® Office® 2013 productivity suite – including Microsoft Word, PowerPoint®, Excel® and Visio® programs.
"The ability to open and edit documents without having to download them first will save time, and thus money, making my practice more efficient and profitable," said attorney David Cox, the sole proprietor at Cox Immigration Law. "It appears to be super easy to manage documents within Firm Manager. Ease of use is key since that requires less training and monitoring."
"Our primary focus with the Firm Manager product is developing an easy-to-use law firm management application that delights users and makes the routine tasks for practicing law easier," said Susan Harman, vice president and product champion for the LexisNexis Firm Manager team. "The way we do this is to continually be in the market talking to customers. Saving time related to opening, editing and saving documents is a big delighter, and is a top customer request."
The Firm Manager product was built with the input of hundreds of attorneys, and product improvements in this release were largely driven by customer request. "I was part of the group that helped point out the need for this new feature," added Cox, who also serves on the Firm Manager customer advisory board. "Its implementation is more robust and elegant than I expected."
A secondary feature of this software release is the addition of an invoice status display alongside the matter view. This means the status of the top three paid – and unpaid accounts – is presented on the screen as an attorney or staff member views matters. The new feature adds to the billing and invoicing features released in September 2014 and provides a simple way to stay abreast of client payments and collectables – providing independent attorneys and staff with a 360 view of everything related to a matter.
Previous functionality and new feature announcements for the Firm Manager product since its launch have included the "Money Finder" feature, a new synchronization feature with the Google Calendar™ calendaring application, and custom billing and invoicing. To learn more about the LexisNexis Firm Manager product please visit http://www.firmmanager.com.
About LexisNexis® Legal & Professional
LexisNexis Legal & Professional is a leading global provider of content and technology solutions that enable professionals in legal, corporate, tax, government, academic and non-profit organizations to make informed decisions and achieve better business outcomes. As a digital pioneer, the company was the first to bring legal and business information online with its Lexis® and Nexis® services. Today, LexisNexis Legal & Professional harnesses leading-edge technology and world-class content, to help professionals work in faster, easier and more effective ways. Through close collaboration with its customers, the company ensures organizations can leverage its solutions to reduce risk, improve productivity, increase profitability and grow their business. Part of Reed Elsevier, LexisNexis Legal & Professional serves customers in more than 175 countries with 10,000 employees worldwide.
LexisNexis helps professionals at law firms and legal departments of all sizes manage the business element of their practice or departments with innovative software and mobile solutions for customer relationship management, time and billing management, matter management, client analysis, legal holds and more.
# # #