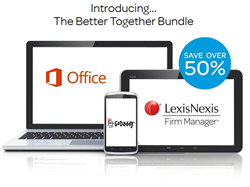 Firm Manager was designed with the input of hundreds of attorneys in small law firms.
Raleigh, NC (PRWEB) January 23, 2015
LexisNexis® Legal & Professional, a leading provider of content and technology solutions, announced today that the LexisNexis Firm Manager® team will offer a new "Better Together Bundle." The bundle combines three essential business products or services – secure, easy to use online practice management, Microsoft Office 365™ productivity software and web hosting from GoDaddy.com, LLC – that small law firms typically need to launch or grow a law practice.
"Firm Manager was designed with the input of hundreds of attorneys in small law firms. We continue to listen to our users and simultaneously leverage our industry relationships to develop an ecosystem of technology companies to work together to add value to the law firm market," said Susan Harman, vice president and product champion for the Firm Manager team. "We welcome the addition of GoDaddy to our alliance and clearly we are thrilled to again team with Microsoft in serving the legal community."
Specifically the "Better Together Bundle" provides small law firms discounted pricing for the first year on the following:

40% discount on a Firm Manager subscription with an annual contract
50% discount on MSRP for Microsoft Office 365™ Small Business Premium software
GoDaddy domain hosting with a "business" website builder and $100 in Bing® pay-per-click advertising credits at no additional charge
The announcement comes on the heels of a strategic technology integration initiative the Firm Manager team announced late last year, through which the Firm Manager development team began work to integrate its practice management solution with Microsoft® Outlook and Microsoft Office 365™ productivity solutions.
Among other benefits, that integration with the Firm Manager product permits bi-directional synchronization between calendar tools in both products and an app that enables attorneys and legal professionals to save documents generated in Microsoft products to the Firm Manager application in the cloud. For example, an attorney can save a document created in Microsoft Word to a client file or matter created in the law firm's Firm Manager account. The Firm Manager application has just recently been added to the Microsoft Apps for Office online store.
"Firm Manager is a solid practice management tool for solo and small firms," wrote Heidi S. Alexander, a Law Practice Management Advisor with Massachusetts law Office Management Assistance program (Mass LOMAP) in a Firm Manager review published on Attorney at Work. "With new features forthcoming, a demonstrated commitment to product development and an eye toward user experience, this product will only get better."
Specific terms and conditions for the "Better Together Bundle" may apply. Legal professionals interested in details of the offer should register for a free 15-day trial of the Firm Manager product using the promotion code "MSOFFER" at the following website: http://firmmanager.com/bundle/
Offer expires June 30, 2015.
About LexisNexis® Legal & Professional
LexisNexis Legal & Professional is a leading global provider of content and technology solutions that enable professionals in legal, corporate, tax, government, academic and non-profit organizations to make informed decisions and achieve better business outcomes. As a digital pioneer, the company was the first to bring legal and business information online with its Lexis® and Nexis® services. Today, LexisNexis Legal & Professional harnesses leading-edge technology and world-class content, to help professionals work in faster, easier and more effective ways. Through close collaboration with its customers, the company ensures organizations can leverage its solutions to reduce risk, improve productivity, increase profitability and grow their business. Part of Reed Elsevier, LexisNexis Legal & Professional serves customers in more than 175 countries with 10,000 employees worldwide.
LexisNexis helps professionals at law firms and legal departments of all sizes manage the business element of their practice or departments with innovative software and mobile solutions for customer relationship management, competitive intelligence gathering and assessment, time and billing management, matter management, client analysis, legal holds and more.