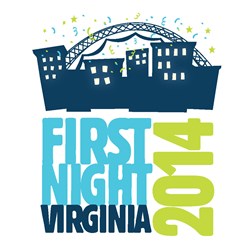 Over the years, hundreds of thousands of people have attended this fun-filled celebration of the arts in the historic city of Charlottesville. This year we will offer over 70 different options that you can access with your wristband
Charlottesville, VA (PRWEB) December 05, 2013
First Night Virginia, a popular annual "community celebration of the arts" event, has just launched its early wristband sales. Through December 30, admission for adults is $15; children 6 to 15 are $5, kids under 5 can get in for free, and a family pack of 2 adults and 2 children is discounted to $35. Prices will go up on December 31. In addition, the event has also just released its entertainment schedule.
Since the first celebration was held over three decades ago, the annual First Night Virginia party has developed a well-deserved reputation as a fun and festive place to ring in the New Year in an alcohol-free and family-friendly environment. From families pushing young children in strollers to teenagers, couples, and senior citizens, everyone is sure to find something they will enjoy at the 32nd First Night Virginia in Charlottesville.
"Programming includes musical performances from bluegrass to rock n' roll, theatrical performances, children's acts, a processional, ballet, jugglers, magic shows, comedy shows, and artists from around the community, which are all part of a unique evening of family friendly celebration and community fun," Drake Van de Castle, President of First Night Virginia noted, adding that the Charlottesville event is the 2nd oldest out of more than 130 other First Night celebrations across the country.
"Over the years, hundreds of thousands of people have attended this fun-filled celebration of the arts in the historic city of Charlottesville. This year, we will offer over 70 different options that you can access with your wristband," shared Van de Castle.
"One special situation is that we have two wonderful performers at the Paramount Theatre with James Munsey, a hypnotist, and Nick Arnette, a clean comedian, where we offer reserved seating for some of the best seats in the historic theatre for an additional $5 for both adult and children."
Some of the new performances this year feature the first Spirit Walk, storytelling by Lincoln's Bodyguard, the Virginia Acrobats, Electric Teen DJ Dance Party, Hamner Theatre with Shakespeare, Fatty Lumpkin Band, WorldBeat, Ragged Mtn String Band, and Creation Station at the Discovery Museum. They also have a new venue on the Downtown Mall at the Old Metropolitan Hall with Kid Pan Alley, Paul Reisler, and a variety of local singers/songwriters.
"First Night Virginia would not happen without the wonderful support of our corporate sponsors, Sloan Manis Real Estate Partners, The Charlottesville Newsplex, Monticello Media, and the Omni Hotel," Van de Castle said.
To learn more about First Night Virginia, the scheduled entertainers, how to purchase wristbands, buttons and how volunteers may attend for free, visit http://www.firstnightva.org.
About First Night Virginia:
First Night Virginia is a non-profit organization whose mission is to celebrate New Year's Eve by bringing artists and community together for a unique evening of performances, events and activities. First Night Virginia creates a festive atmosphere throughout Downtown Charlottesville and is committed to remaining alcohol-free, affordable, accessible, inclusive, and fun for all ages. It began in 1982 and is the second oldest First Night in the country. 2014 is the 32nd annual festival of the arts with many family-friendly activities on and around the historic Downtown Mall. For more information, please visit: http://www.firstnightva.org/.