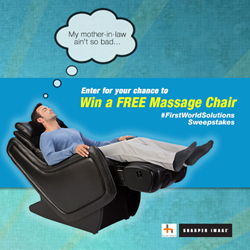 Whoever wins this prize is going to have a lot less stress in the years to come
Farmington Hills, MI (PRWEB) September 05, 2014
SharperImage.com is giving one lucky person the chance to ease away stress, tension and worries for years to come in its latest #FirstWorldSolutions Sweepstakes. This time, the grand prize is a deluxe Zero Gravity Immersion Massage Chair from Human Touch.
The Zero Gravity Immersion Massage Chair is designed to stretch, flex, tone and ease away the aches and pains of everyday life. From sitting too long in a car or cubicle to post-workout soreness, this advanced recliner is literally, "just what the doctor ordered." That's because it puts the user in the "zero-gravity" neutral position, which physicians say is the healthiest way to sit and relax.
From there, the user can customize his or her own massage, or choose one of four full-body massage modes that stretch, flex, tone and ease tired muscles. And, it's made with durable, high-quality synthetic leather that feels great and enhances the look of any living room, den or man cave.
To enter the #FirstWorldSolutions Sweepstakes, customers can go to the Sharper Image Facebook page and "Like" it. Then, he or she can fill out the entry form. Visitors can enter the Sweepstakes once per day through 11:59 p.m. EST on Thursday, September 25, 2014. For even more chances, Facebook users can share the link with their friends. Each time one of those friends enters the Sweepstakes through the shared link, the sharer will get an extra entry. The winner will be announced on or about Friday, September 26, 2014.
The Human Touch Zero Gravity Immersion Massage Chair giveaway is the latest installment of Sharper Image's #FirstWorldSolutions Sweepstakes, which aims to solve modern-day inconveniences (a.k.a. "First World Problems") with cool and clever items from the cataloger's ever-growing assortment of products.
Earlier this year, #FirstWorldSolutions Sweepstakes winners took home such cool prizes as Unbreakable Rocks Glasses, 100X Ultrazoom Binoculars, a Water-Resistant Bluetooth Shower Speaker, a Sleep Therapy Mask, a Floating Cooler, a Portable Badminton Set and a BBQ Grill Light and Fan. The Human Touch Zero Gravity Immersion Massage Chair is the biggest prize of the year.
"Sharper Image is known as the premier destination to buy Human Touch Massage Chairs, so we're very excited to make this amazing chair the focus of our biggest giveaway," said Darcy Lindamood, SharperImage.com Vice President of Marketing. "Whoever wins this prize is going to have a lot less stress in the years to come."
To learn more about Human Touch massage chairs and to find more First World Solutions, visit SharperImage.com. Customers can also follow the company on Facebook (https://www.facebook.com/SharperImage) and Twitter (@SharperImage or https://twitter.com/SharperImage).
About SharperImage.com
SharperImage.com offers consumers an engaging way to find the latest home electronics, air purifiers and other lifestyle products. SharperImage.com continues the tradition of fun, innovation and excitement that Sharper Image originated in 1977. Relaunched in 2010, SharperImage.com and the Sharper Image catalog are owned and operated by Camelot Venture Group. Please continue to visit our site and follow us on social media for the newest products, trends and special offers.