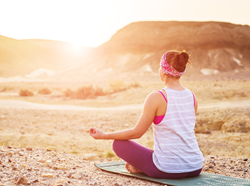 An all-inclusive desert retreat for healthful humans
BORREGO SPRINGS, Calif. (PRWEB) March 23, 2019
Highway West Vacations has announced its first annual Borrego Wellness Weekend for April 19 - 21, 2019. Health and nature enthusiasts will explore guided mindfulness and hiking in the blooming California desert, learn healthy cooking behavior, and enjoy daily yoga.
The weekend begins on Friday, April 19 by settling in and unwinding next to the Anza-Borrego Desert State Park at Palm Canyon Hotel & RV Resort or Borrego Valley Inn for guests who choose to stay on location for the weekend. Attendees will begin their retreat with an afternoon of outdoor yoga led by Paul Penners welcoming all skill levels to connect mind, body and spirit with nature. In the evening, Chef Mara Jaffe will welcome healthy appetites with a carefully curated dinner to set the tone for the weekend.
On Saturday, April 20, guests will discover peace in a setting surrounded by wide-open spaces with morning yoga, followed by a guided hike in the wildflower blooming Anza-Borrego Desert. In the afternoon, a healthy conscious cooking class awaits where guests are encouraged to explore thoughtfully selected ingredients and techniques led by Chef Mara. The journey of spiritual well-being will continue with keynote speaker Stacey Cargnelutti where she will teach exploration in the practice of mindfulness and living in the present. The evening will conclude with a delectable meal under the starry desert sky.
The following day, guests will begin their day with a morning yoga class followed by a naturally derived meal before exploring the Palm Canyon Trail for a guided hike. The retreat concludes with one last thoughtful meal by Chef Mara before returning home.
All-inclusive packages start from $699 and include overnight accommodations at Palm Canyon Hotel & RV Resort or at Borrego Valley Inn. In addition to a two-night stay in peaceful accommodations, the package features six healthy meals personally prepared by Chef Mara Jaffe, three expertly led yoga sessions, two curated desert hikes, one hands-on educational cooking class, one keynote speaker on mindfulness, and all hotel amenities which include pools, hot tubs, laundry facilities and more.
For those guests who are only interested in the retreat events, tickets without accommodations are available for $350 per person.
For more information on the 2019 Borrego Wellness Weekend and to purchase tickets, please visit borregowellnessweekend.com.