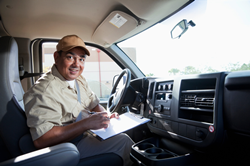 First Chicago offers customized commercial auto packages for a variety of classes in the public transportation segment, from large fleet operations to individual owner operators
BEDFORD PARK, Ill. (PRWEB) May 05, 2021
Marketed by Warrior Insurance Network (WIN) and issued by First Chicago Insurance Company (First Chicago), the Public Transportation Specialty Program is available in Illinois, Indiana, Pennsylvania, Ohio, and Wisconsin. First Chicago, a member of Warrior Insurance Network, offers its Public Transportation Specialty Program to provide taxi, limousine, paratransit, and other types of public transportation risks, with a quality commercial auto insurance program that offers competitive rates and first-class personalized claim service.
"First Chicago offers customized commercial auto packages for a variety of classes in the public transportation segment, from large fleet operations to individual owner operators," shared Gloria Corral, First Chicago's Vice President of Commercial Underwriting. "Our extensive experience in public transportation insurance, combined with our ability to create innovative solutions help us meet the needs of our insureds."
First Chicago possesses the knowledge and expertise needed to provide appropriate commercial insurance coverage and can customize an insurance policy to help suit a customer's business needs. First Chicago has a dedicated underwriting team that is powered with experienced insurance professionals who utilize analytics to insure proper pricing for qualifying accounts. First Chicago's Public Transportation Specialty Program offers a variety of discounts, billing plans, coverages, and other unique features to help meet the needs of the growing public transportation industry.
"The public transportation sector is poised for major growth in the coming years. It is important to work with a company that truly understands the intricacies of this niche market, a trusted partner who can navigate the evolving public transportation landscape. Our organization is a forward-thinking, customer focused insurance provider that has built a commercial auto division which provides creative insurance solutions to meet our customer's needs. We also pride ourselves on delivering exceptional customer service by not only meeting, but exceeding our customer's expectations," Corral concluded.
For more information about First Chicago's Public Transportation Specialty Program, please contact First Chicago Insurance Company at 708-552-4400 ext: 4209 or
commercialaccounts@firstchicagoinsurance.com
About First Chicago Insurance Company and Warrior Insurance Network
First Chicago Insurance Company (First Chicago) is a member of the Warrior Insurance Network (WIN). First Chicago, whose roots trace back to 1920, recently celebrated their 100th anniversary. Over this timespan, First Chicago has evolved into a multi-line insurance carrier, now offering Personal & Commercial Auto, General Liability, Workers' Compensation, Short Term Major Medical and Personal Accident Medical Insurance in response to the needs of the company's independent produces and customer base. In personal lines, First Chicago has further responded to the changing exposures and needs of their independent producers by adding niche insurance products such as Contents Plus Renters, Roadside Assistance, and Transportation Network Coverage to enhance their personal lines auto offerings. First Chicago currently offers insurance via independent agencies and online throughout Illinois, Indiana, Iowa, Kansas, Louisiana, Missouri, Pennsylvania, Texas, Ohio, and Wisconsin. First Chicago headquartered in Bedford Park at 6640 S. Cicero Avenue, Bedford Park, IL, 60638, 888-262-8864. http://www.FirstChicagoInsurance.com.
Warrior Insurance Network (WIN) entities include First Chicago Insurance Company, United Security Health and Casualty Insurance Company, Texas Ranger MGA, and Lonestar MGA. WIN is a marketing organization that serves a select group of insurance carriers and independent insurance agents that offers a diverse array of personal auto products, commercial line products, and individual health insurance products across a wide range of states that is always growing. http://www.WarriorInsuranceNetwork.com