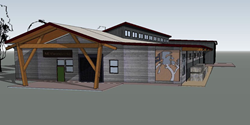 We see CLTs as the wave of the future and are investing in our Western New York campus to better position the region, and our industry, to ride the wave
Farmington, NY (PRWEB) January 23, 2017
Cross Laminated Timber (CLT) construction, an economically and environmentally conscious alternative to steel and concrete construction, is being introduced in the first full CLT building in New York State by New Energy Works Timberframers. The panels and timber frame within will begin raising/assembly the week of January 23, 2017. The company sees CLT construction as a wave of the future and is bringing the alternative building method to New York State.
Date:
Thursday
January 26, 2017
Time:
10:30 to 11:30 AM
The CLTs and timber frame will be raised all day, but best time for visual and interviews are as noted above.
Location:
New Energy Works Timberframers, Headquarters
1180 Commercial Drive
Farmington, NY 14425
Visuals:
Large panels of Cross Laminated Timbers (38 feet long x 8 feet wide x 4 inches thick) flying by crane and forklift into place on 21,000 sqft building.
Interview Opportunities:
New York State Senator Pam Helming
Jonathan Orpin, Founder of New Energy Works Timberframers and Pioneer Millworks
About New Energy Works Timberframers:
New Energy Works Timberframers have been designing and building environmentally responsible timber frames across the USA for more than 30 years from their facilities in New York and Oregon. Offerings include: Timber Framing (design, engineering, manufacturing, and build), Enclosure Systems, Fine Woodworking, and Recycled and Sustainable wood products. New Energy Works has LEED AP staff members, is a member of the US Green Building Council, and is FSC-certified.