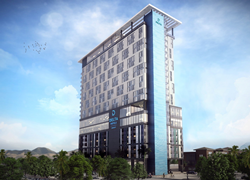 As an award-winning Marriott manager, Crescent will maximize upon the potential of this great property
LAS VEGAS (PRWEB) July 30, 2019
Las Vegas' first Delta Hotel by Marriott will be managed by Crescent Hotels & Resorts. Crescent Hotels & Resorts is an award winning, nationally recognized operator of major hotels and resorts throughout the United States & Canada.
A groundbreaking ceremony was held on Wednesday June 26, and the hotel is expected to open at the end of 2021.
"Crescent has extensive management experience in Las Vegas" said Michael George, Chief Executive Officer of Crescent Hotels & Resorts. "As an award-winning Marriott manager, Crescent will maximize upon the potential of this great property."
The high-end, 24-floor hotel will offer tourists and convention guests a full-service, functional experience through approximately 10,000 square feet of meeting space and approximately 1,600 square feet of retail space, along with convenient amenities including a rooftop pool, fitness center, covered parking, lobby dining bar and coffee bar.
For more information about the Delta Hotel by Marriott in Las Vegas, visit http://www.caicap.com.
About Crescent Hotels & Resorts
Crescent Hotels & Resorts is an award winning, nationally recognized, top-3 operator of hotels and resorts. Crescent currently operates over 100 hotels, resorts & conference centers in the US & Canada. Crescent is one of the few elite management companies approved to operate upper-upscale and luxury hotels under the brand families of Marriott, Hilton, Hyatt and IHG. Crescent also operates a collection of legendary independent lifestyle hotels and resorts under the Latitudes Collection umbrella. Crescent's clients include premiere REITs, private equity firms and major developers. For more information, please visit http://www.crescenthotels.com & http://www.latitudesbycrescent.com or connect with Crescent on LinkedIn.