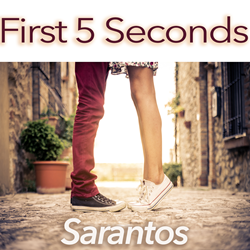 Do you remember your 1st five seconds??
Park Ridge, IL (PRWEB) April 04, 2017
Sarantos Releases A New Song About The 1st Time He Fell In Love, Called "First 5 Seconds."
Love. Everyone chases it. Most people have been lucky enough to have been in love at some point in their lives. Even people living the single life or divorced have probably at some point in their lives experienced love in some form or another - not the love of a parent or friend but that special kind of fondness that sparks one's imagination and makes the heart skip a beat. Even if years later one concludes that it wasn't really love but just the bewildered anxiety or infatuation of a teenager, there is still something unmistakable about that very first time, isn't there?
Sarantos vividly remembers the first time he fell (in love) at the ripe old age of 19. There was just a crazy electricity in the air and the moment seemed magical. It's a tick in time that one will never forget! Going home that warm summer night with sleep not an option with a heart chirpy and thundering, Sarantos wrote this song. It's a fun pop folk song about that very first moment of perfection.
"This folky pop song is about the first few seconds when you meet the love of your life," says Sarantos. "It's such a happy time. Has it ever happened to you? Well it smacked me upside the head. I had no idea what hit me! I'd dated before and thought I had felt some enchantment, but that was nothing compared to what I went thru that midsummer night when I was 19. So of course, when I went home, I immediately wrote a song about it. Now years later, I thought it was time to set it free. When I was singing it, I kept coming up with some cool ad libs and thought they gave the song a cool playful vibe. Let me know what you think! By the way, do you remember your 1st five seconds??"
Sarantos and fans chose this charity for this song - The American Heart Association. They are a non-profit organization in the United States that fosters appropriate cardiac care in an effort to reduce disability and deaths caused by cardiovascular disease and stroke.
Sarantos' unique sound has been best described by industry insiders as an "emotionally powerful vocal style masterfully united with music that is a fusion of classic '80s rock blended with modern soft rock and pop music."
Since 2014, Sarantos has won over 36 awards with Akademia LA Music and Beat 100, while also being nominated for the International Music & Entertainment Awards and the Hollywood Songwriting Awards. Even without ever using a professional music studio, label, ad agency or radio promoters, "Dreamer" & "What If I Never See You Again" have spent many months in the top 200 on the majors list in the US for radio airplay according to the Digital Radio Tracker Top 200 charts. On the independent charts, Sarantos has hit the top 10 twice.
*Because Sarantos wants music shared throughout the world, fans can always find downloadable songs, lyric sheets, videos and books on the website. Fans can sign up for the email list to get the inside scoop first and exclusive content available nowhere else.
Facebook: http://www.facebook.com/Sarantosmelogia
Spotify: play.spotify.com/artist/0fSzbfDxSHL10T1ryPsRLQ