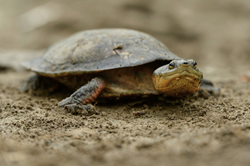 "The creation of this reserve is a vital step in protecting the Dahl's Toad-headed Turtle from extinction," said Mark Gruin, Acting CEO of Rainforest Trust. "Without this formal protection of its habitat, this extraordinary species could be lost forever."
WASHINGTON (PRWEB) December 19, 2019
Rainforest Trust, in collaboration with Wildlife Conservation Society Colombia and Turtle Survival Alliance, has safeguarded a 297-acre property in rural northern Colombia that will become the first and only reserve for the conservation of the critically endangered Dahl's Toad-headed Turtle.
The Dahl's Toad-headed Turtle (Mesoclemmys dahli) lives exclusively in the Caribbean region on Columbia's Atlantic Coast. But agriculture, cattle farming and construction are destroying and fragmenting the turtle's key dry forest habitat. The landscape is transforming so significantly that the species is in critical danger of extinction.
According to recent genetic studies, these habitat changes have divided the Dahl's Toad-headed Turtle population into at least six isolated groups. Individuals are now mating among close relatives which increases the chance of genetic disorders and deleterious traits.
WCS Colombia and Turtle Survival Alliance will develop a genetic rescue program, bringing unrelated individuals from other localities to the new reserve to reduce inbreeding and maintain genetic diversity. They will also conduct detailed demographic and genetic monitoring of the reserve's population to assess the effectiveness of the breeding program. This information could help develop a model for the recovery of other species with similar threats. Additionally, the partners will restore and expand the wetland complex in the reserve to improve the quality of the dry forest habitat.
German Forero-Medina, Science and Conservation Director for WCS Colombia explains the importance of this initiative. "This species is only found in northern Colombia, its habitat has been degraded across all of its range and it's not within any protected area. Thus, this new reserve will provide a unique opportunity to ensure the long-term persistence of the species."
"The creation of this reserve is a vital step in protecting the Dahl's Toad-headed Turtle from extinction," said Mark Gruin, Acting CEO of Rainforest Trust. "Without this formal protection of its habitat, this extraordinary species could be lost forever."
This project was made possible through gifts to Rainforest Trust's Conservation Action Fund, with leadership support from George Jett. All donations were matched by the Trust's SAVES Challenge.
Since 1988, Rainforest Trust has been safeguarding imperiled tropical habitats and saving endangered species by establishing protected areas in partnership with local organizations and communities. Rainforest Trust is a nonprofit organization that relies upon the generous support of the public to successfully implement our important conservation action. Learn more about our work by visiting http://www.RainforestTrust.org, twitter.com/rainforesttrust, http://www.instagram.com/rainforesttrust or http://www.facebook.com/RainforestTrust.