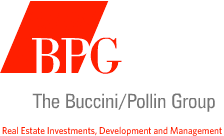 Wilmington, Delaware (PRWEB) July 24, 2014
The Buccini/Pollin Group (BPG) is proud to announce that two Starbucks® stores will open soon in Wilmington, Delaware. This marks the international retailer's double-debut in the city with one location in the downtown area and one on the riverfront across from The Residences at Harlan Flats. The downtown location will open in October 2014 in BPG's Nemours Building, one of Wilmington's premier downtown office buildings and home to LuxiaSuites, Wilmington's newly remodeled corporate extended-stay apartments. This will be Starbucks' first venture into the city, offering the city's more than 60,000 daily workers a chance to enjoy the Starbucks Experience.
The Riverfront location will open at the end of 2014 in the ground floor of The Residences at Justison Landing, one of the city's premier apartment communities. Starbucks Riverfront will offer a fireplace-centered lounge and industrial-inspired décor, reminiscent of the days past of riverfront activity. This Starbucks location will join several other recently established businesses including The Westin, Stratosphere, and Penn Cinema - all part of the revitalized riverfront neighborhood.
The Residences at Harlan Flats, which will be opening in Fall 2014, is a brand new luxury apartment community on Wilmington's Riverfront and will offer resort-style living with a courtyard swimming pool, state-of-the-art fitness center, clubhouse and concierge. The pet-friendly apartments will feature stainless steel appliances, washers & dryers, luxurious bathrooms and open kitchens. For more leasing information, please visit http://www.harlanflats.theresidences.net or call 302-757-9020.
About The Buccini/Pollin Group
The Buccini/Pollin Group is a privately-held, full-service real estate acquisition, development and management company with offices in Washington, DC, Wilmington, DE, Philadelphia, PA, and New York City. Since 1993, Buccini/Pollin has developed and acquired hotel, office, residential, sports & entertainment, and retail properties throughout the Mid-Atlantic and Northeast having a value in excess of $4 billion. The Buccini/Pollin Group currently has under management or development 26 hotels, 6 million square feet of office and retail space, 10 major residential communities, and multiple entertainment venues, including PPL Park, home of the Philadelphia Union Major League Soccer team. Buccini/Pollin's 2,000 associates make a difference in our communities by supporting over 50 vital charities. For more information, please visit http://www.bpgroup.net.