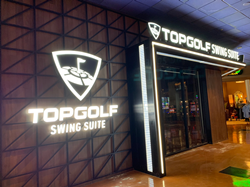 RENO, Nev. (PRWEB) April 17, 2019
A new age of virtual reality entertainment has arrived in Reno as northern Nevada's first Topgolf Swing Suite is now open at Silver Legacy Resort Casino at THE ROW.
"There's no other experience in Reno like Topgolf Swing Suite and we are excited to introduce our customers to this level of cutting-edge entertainment as we continue to elevate the standard of guest engagement at our properties across the country," said Anthony Carano, President and Chief Operating Officer of Eldorado Resorts, Inc. "This is the perfect addition to our entertainment offerings at THE ROW, and one that raises a traditional fun night out in the Heart of Reno to a whole new level."
The immersive, state-of-the-art social entertainment experience features four simulator suites with a wide variety of virtual games, including the popular Topgolf target game, Zombie Dodgeball, Hockey Shots, Quarterback Challenge, Baseball Pitching, Carnival Classic and more. Each simulator space accommodates up to a dozen people in front of a massive screen where guests can go from smashing a 7-iron to striking out a batter with a fastball to ending the zombie apocalypse in a matter of minutes. Designed to be enjoyed by golfers and non-golfers alike, the high-energy, interactive sports and social gathering spaces offer ultra-comfortable lounge seating, HDTVs and extensive food and beverage options such as loaded waffle fries and s'mores.
Another focal point is the stylish 18-seat bar, which is destined to become one of Reno's top spots to socialize and enjoy creative cocktails that play on golf's most celebrated players and moments such as the 19th Hole, known as an elevated Arnold Palmer, featuring Patron Silver tequila, iced tea, lemonade, agave syrup, a lemon wheel and fresh mint garnish.
A perfect location for date night, bachelor and bachelorette parties, birthday celebrations, team building events, corporate meetings and more, guests can customize their experience with bottle service as they play, eat and imbibe while mingling in this energy-infused environment.
Located on the mezzanine level between Rum Bullions Island Bar and El Jefe's Cantina, Topgolf Swing Suite at Silver Legacy Resort Casino is open 4 p.m. to close Wednesday through Friday, noon to midnight Saturday and noon to close Sunday. Suite rental pricing starts at $50 per hour, for up to eight players in each suite. Each additional player up to 12 is $10 per person, per hour. Happy Hour suite pricing starting at $35 will be available Wednesday through Friday, 4 p.m. to 6 p.m. All ages are welcome, however, Topgolf Swing Suite is 21 and older after 9 p.m. on Friday and Saturday. Private groups can be accommodated seven days a week and the venue is available for full or half buyout.
Suites can be reserved online at SilverLegacy.com, by phone by calling 775-325-7352 or by walk-in.
Topgolf Swing Suite is part of Eldorado Resorts Inc.'s over $100 million master renovation project at THE ROW that includes the addition of The Spa at Silver Legacy and Ruth's Chris Steak House, renovations to hotel rooms at Eldorado, Circus Circus and Silver Legacy, upgrades to the Eldorado Showroom and a reinvented Carnival Midway at Circus Circus.
About Eldorado Resorts, Inc.
Eldorado Resorts (NASDAQ: ERI) is a leading casino entertainment company that owns and operates twenty-six properties in twelve states, including Colorado, Florida, Illinois, Indiana, Iowa, Louisiana, Mississippi, Missouri, Nevada, New Jersey, Ohio and West Virginia. In aggregate, Eldorado's properties feature approximately 28,000 slot machines and VLTs and approximately 750 table games, and over 12,500 hotel rooms. For more information, please visit eldoradoresorts.com.
About THE ROW
Eldorado Resorts, Inc. presents a one-of-a-kind, unified and distinguished resort experience with THE ROW—a newly-branded destination in the heart of Reno comprised of six contiguous city blocks, uniting Eldorado Resort Casino, Circus Circus Reno and Silver Legacy Resort Casino. THE ROW features 25 restaurants, 23 bars and lounges, 8 nightspots, over 4,000 luxury rooms and suites and 227,000 square feet of casino space with 3,000 slot machines and 125 table games. With the recent addition of The Spa at Silver Legacy, THE ROW offers an unrivaled relaxation experience and northern Nevada's newest luxury wellness retreat. In addition, THE ROW has over 4,000 of the best Team Members in the industry. For more information about THE ROW, located in the heart of Reno, visit TheRowReno.com, follow THE ROW on Instagram and use #TheRowReno when uploading your photos to Facebook, Twitter and Instagram.