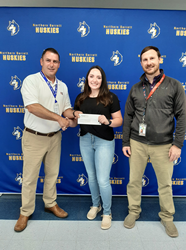 FREDERICK, Md. (PRWEB) August 02, 2022
First United Bank & Trust is proud to announce Ava E. Rankin of Northern Garrett High School as the recipient of the 2022 Future Business Leaders of America (FBLA) Scholarship.
Future Business Leaders of America (FBLA) is the high school division of Future Business Leaders of America-Phi Beta Lambda, Inc. FBLA helps high school students prepare for careers in business and to assist them by becoming better employees and citizens. FBLA helps students develop leadership abilities, prepares them for entry into business-related occupations, and offers a setting where members compete at regional, state and national levels in business and technology curriculum.
Carissa L. Rodeheaver, Chairman of the Board, President & CEO, remarked, "Congratulations Ava! On behalf of the entire staff, we would like to take this opportunity to commend you on your achievement. We hope that this scholarship will be the foundation of your future academic success and we wish you luck in all your endeavors."
First United offers this annual scholarship opportunity to current members of the local chapter. In order to qualify for the $500 scholarship, applicants needed to be a current FBLA member; attend at least two FBLA meetings; attend at least two FBLA events and complete a 500-word essay explaining how participating in the Association has helped develop the skills and experience needed to help in the field of business. Ava met all qualifications and provided a very professional and well, thought-out essay.
Jason E. VanSickle, Vice President and Director of Strategic Growth, spearheads First United's partnership with the local FBLA chapter. Jason commented, "It is my pleasure to congratulate Ava on being awarded this scholarship. Everyone at First United hopes this achievement is just the beginning of your business success."
First United Corporation operates one full-service commercial bank, First United Bank & Trust. The Bank has a network of community offices in Garrett, Allegany, Washington, and Frederick Counties in Maryland, as well as Mineral, Berkeley, Harrison, and Monongalia Counties in West Virginia. As of 3/31/22, the Corporation posted assets of $1.8 billion. First United's website can be located at MyBank.com.