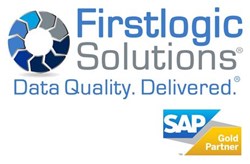 Our new Firstlogic® Postalsoft DQ 9.0 solution allows customers to stay with the familiar Job-File & Views interfaces with no disruption to their existing processing.
Atlanta, GA (PRWEB) October 10, 2013
Firstlogic Solutions® has partnered with SAP® to extend the development and support of the SAP Postalsoft Data Quality (DQ) 8.0 software, ensuring the future roadmap for the platform. As the exclusive source for the next generation Postalsoft DQ software, Firstlogic Solutions will offer current SAP Postalsoft DQ 8.0 customers a simple upgrade path to version 9.0 and provide technical support for the full suite which includes ACE™, DataRight IQ™ and Match/Consolidate™.
Longstanding SAP Postalsoft DQ customers will continue to enjoy timely CASS cycle updates, feature enhancements and direct support for the platform long into the future. The Postalsoft ACE, DataRight IQ and Match/Consolidate platform has been providing robust address cleansing, data cleansing, data enhancement, data matching and data consolidation to thousands of customers for over 20 years. Today, the platform maintains a large and dedicated customer base leveraging the power and accuracy of the trusted architecture.
"We're excited about this co-innovation agreement between SAP and Firstlogic Solutions which offers an extended road map to longtime SAP Postalsoft DQ customers. Our new Firstlogic® Postalsoft DQ 9.0 solution allows customers to stay with the familiar Job-File & Views interfaces with no disruption to their existing processing. And best of all, the new Postalsoft ACE platform is powered by the proven SAP Data Quality Management (DQM) processing engine ensuring consistent and compliant address and data cleansing," said Ken Kucera, Managing Principal of Firstlogic Solutions. "Customers who purchased software through SAP or its resellers are able to subscribe to the new software and upgrade their current 8.0 version with little effort and no disruption to their business."
Firstlogic Solutions' team members will be available at SAP TechEd in Las Vegas, October 21 – 25, to meet with customers and answer questions about the new Firstlogic Postalsoft DQ 9.0 software platform. Customers may also register on the website for scheduled webinars outlining the new platform starting on November 1, 2013.
To learn more about Firstlogic Postalsoft products or support options, please call 1-888-725-7800, email at postalsoft(at)firstlogicsolutions(dot)com or visit the website at http://www.firstlogicsolutions.com/postalsoft.aspx. A Postalsoft Data Quality (DQ) 8.0 to 9.0 guide with helpful upgrade information and Frequently Asked Questions (FAQ) is also available in the Resources section on the webpage.
About Firstlogic Solutions
Firstlogic Solutions, LLC is the leading SAP Gold Partner specializing in the SAP Enterprise Information Management (EIM) data quality solutions providing both software and services for the Postalsoft and SAP Data Services platforms for real-time and batch data profiling, data monitoring, data parsing, data cleansing, address cleansing, data standardization, data enhancement, data matching, data consolidation and geocoding. Customers include both large enterprises and midsize companies from across all industries in North America.
Firstlogic and Firstlogic Solutions are registered trademarks of Firstlogic Solutions, LLC. SAP and all SAP logos are trademarks or registered trademarks of SAP AG in Germany and in several other countries.