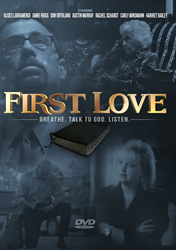 Ask God to show you His connections in your life. Open your eyes to see the people He brings to you.
The Woodlands, TX (PRWEB) October 03, 2014
For years, Carla McDougal has reached a wide audience through her ministries in both English and Spanish. Her book My Prayer Chair, published by Next Century Publishing, is not only a bestseller but has been translated into Spanish and is currently gaining worldwide recognition. Now, Carla's organization Reflective Life Ministries has produced an award-winning film, FIRST LOVE, which will be shown with Spanish subtitles at a special screening event on October 3.
The FIRST LOVE Movie and Popcorn Night will be held at 7:00 p.m. at The Woodlands UMC and will allow attendees a chance to meet the cast of the movie. The Spanish subtitles will help tie in Mi Sillon de Oracion, the Spanish translation of Carla's bestselling book.
FIRST LOVE is the winner of the Dove Foundation Awards 5-Star Seal of Approval. The movie has also been reviewed by The Independent Critic Review and Christian Film Central Reviews.
The movie is a modern rendition of the life of Peter. The story focuses on Joe, a natural but impulsive leader, his wife Catherine, their family and friends. Starring Ulises Larramendi, Don Orolano, Jamie Higgs, Austin Murray, Rachel Schardt, Carly Winsmann and Harriet Bailey, the movie is both enjoyable and thought-provoking, according to critics. The cast will be available for questions and discussion at the film screening.
As the founder of Reflective Life Ministries and a noted author and speaker, Carla McDougal has a heart and a passion for bringing others to a knowledge of Christ through her writing, workshops and seminars. This special screening of FIRST LOVE is designed to introduce audiences to this incredible movie as well as Carla's bestselling books.
About Carla McDougal:
Award-winning author and speaker, Carla McDougal founded Reflective Life Ministries in 2008. Her true passion is her Lord and Savior, Jesus Christ. It humbles her to realize His love, grace, and mercy go beyond her understanding. She truly believes laughter is medicine from the Lord that breaks down walls and removes the masks in our lives. As a result, God has taken her around the world to encourage others to live every day for Him. Her latest book, My Prayer Chair, won multiple awards in 2013 and is now available in Spanish. Carla and her husband, Fred, live in the Houston, TX area and have three sons, one daughter, and two daughters-in-"love." She smiles to think of the experiences God has allowed in her life to teach and remind her "He is in control."