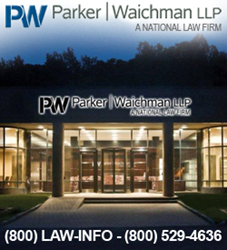 "We are pleased to see that the Zadroga Act is being expanded to provide more coverage to WTC first responders." said Matthew J. McCauley, a former NYPD Officer, WTC First Responder and leading attorney in the WTC/Zadroga group at Parker Waichman LLP
New York, New York (PRWEB) February 21, 2014
Parker Waichman LLP, a personal injury law firm that has spent the past decade working to ensure that the heroes of 9/11 are not forgotten, applauds the fact that four additional cancers have been added to the list of cancers covered by the Zadroga 9/11 law. In legal documents dated January 8, 2014, World Trade Center Health Program Administrator John Howard, M.D. noted that several provisions have recently been made to the Zadroga Act (Docket No. CDC-2014-0004; NIOSH-268). According to the document, the definition of "rare cancers" covered under the Zadroga Act is being revised to include two new cancers, malignant neoplasm of the cervix uteri (invasive cervical cancer and malignant neoplasm of the testis (testicular cancer). Dr. Howard has also reversed a previous policy that considered cancers of the brain and pancreas ineligible. Additionally, "childhood cancers" will now include any type of cancer diagnosed in somebody younger than 20 years-old.
"We are pleased to see that the Zadroga Act is being expanded to provide more coverage to WTC first responders." said Matthew J. McCauley, a former NYPD Officer, WTC First Responder and leading attorney in the WTC/Zadroga group at Parker Waichman LLP. "We have been fighting for our 9/11 heroes since the beginning, and will never forget the ultimate sacrifices they have made."
Many individuals who helped in the rescue and recovery efforts following the 9/11 terrorist attacks developed serious illnesse s because of exposure to toxic dust in the air. The Zadroga Act, which came into law in December 2010, provides compensation to first responders who suffered illnesses or injury due to the toxic dust. The Act, which is named after the late New York Police Department detective James Zadroga, reopened the 9/11 Victims Compensation fund for five years.
In September 2012, the National Institute for Occupational Safety and Health (NIOSH) decided to add more than 50 cancers to the list of illnesses eligible for coverage under the Zadroga Act. The January 8th legal documents note that in September 2013, prostate cancer was also added to the list. Now, the list of eligible illnesses has been amended to include:

Malignant Neoplasm of the Cervix Uteri (invasive cervical cancer)
Malignant Neoplasm of the Testis (testicular cancer)
Brain Cancer
Pancreatic Cancer
Parker Waichman LLP worked alongside Ground Zero First Responders and their advocates to ensure passage of the Zadroga Act. The firm vows to continue its efforts to make sure these heroes receive all of the Zadroga Act compensation they need and deserve.
If you or a loved one are eligible for compensation under the Zadroga Act, and would like assistance with your claim, please visit Parker Waichman LLP's Zadroga Act claims page at yourlawyer.com or call 1-800-LAW-INFO (1-800-529-4636).
Contact:
Parker Waichman LLP
Gary Falkowitz, Managing Attorney
1+(800) LAW-INFO
1+(800) 529-4636
http://www.yourlawyer.com