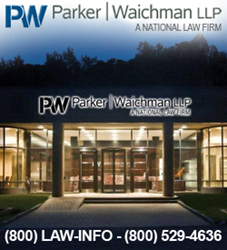 As a firm that has been fighting for the rights of 9/11 heroes for years, we applaud Senator Gillibrand's actions.
Port Washington, NY (PRWEB) April 14, 2014
Parker Waichman LLP, a personal injury law firm that has spent a considerable number of years working to ensure that the heroes of 9/11 are not forgotten, applauds Senator Kirsten Gillibrand for ensuring that the Internal Revenue Service (IRS) clarifies and promotes tax benefits for 9/11 survivors and first responders. According to a press release issued by Senator Gillibrand's office, under the Victims of Terrorism Tax Relief law, disability or other benefits that resulted from 9/11 are non-taxable. Furthermore, if an individual died as a result of a terrorist act, then his/her family is entitled to an income tax refund of at least $10,000.
"As a firm that has been fighting for the rights of 9/11 heroes for years, we applaud Senator Gillibrand's actions," said Matthew J. McCauley, a former NYPD Officer, WTC First Responder, and leading attorney in the WTC/Zadroga group at Parker Waichman LLP. The firm has been working for many years alongside Ground Zero First Responders and continues to advocate for additional benefits under the Zadroga Act, which provides benefits to first responders who were injured in the 9/11 rescue and recovery efforts. The firm vows to continue its efforts to make sure these heroes receive all of the Zadroga Act compensation they need and deserve.
Senator Gillibrand's press release states that many employers, 9/11 responders, and survivors were not aware of these tax benefits because IRS Publication 3920: Tax Relief for Victims of Terrorist Attacks did not make these rules clear.
According to the NY Daily News, Senator Gillibrand wrote a letter to the IRS about the issue after an ill 9/11 recovery worker alerted her. IRS Commissioner John Koskinen responded by pledging to amend the guidance documents for taxpayers and preparers, as well as making the benefits more prominent on the agency website, NY Daily News reported.
If you or a loved one believe you may be eligible for compensation under the Zadroga Act and would like assistance with your claim, please visit Parker Waichman LLP's Zadroga Act claims page at yourlawyer.com or call 1-800-LAW-INFO (1-800-529-4636).
Contact: 
Parker Waichman LLP 
Gary Falkowitz, Managing Attorney 
1+(800) LAW-INFO 
1+(800) 529-4636 
http://www.yourlawyer.com