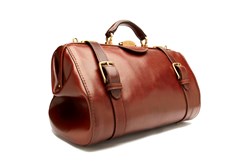 It is a totally unique piece of luggage sold exclusively in the UK by Case at Harrods and we are honoured to have been selected by Steven Fischer to showcase it.
London, UK (PRWEB UK) 19 November 2013
Brand new to the UK and now making its debut in the Luggage Department at the famous Harrods store in London is a unique piece of bespoke luggage, hand-crafted and made in America from 100% leather. Created and developed by University Lecturer, Steven Fischer, The Prairie Bag is hand-stitched by artisans in the American Midwest to Mr. Fischer's strict brief of using only the very best quality materials & techniques to distinguish it from all other luxury travel bags worldwide.
Each Prairie bag is crafted from a single side of leather at the last remaining tannery in Chicago and hand-stitched by a master saddle-maker for two days in the tradition of fine leatherwork practiced in the Midwest since the 1800's. A master blacksmith produces the buckles, the handle is hand-stitched by a harness-maker and the entire bag's hardware is hand-machined solid brass.
It took Steven Fischer nearly a year to source all the bag's component parts in the USA with quality & craftsmanship as the only requirements. It takes three months to make each bag, which at £8,250 is designed with the discerning luxury consumer in mind, hence its début and sole appearance at Harrods.
Says Case CEO Stephen Spitz who sourced the bag from the USA: "The Prairie overnight bag exudes craftsmanship from every pore. It is a totally unique piece of luggage sold exclusively in the UK by Case at Harrods and we are honoured to have been selected by Steven Fischer to showcase it."
Note to Editors: Case Luggage is the leading retailer of premium travel goods in the UK. Established in 1923, the company celebrates 90 years in business this year. http://www.caseluggage.com