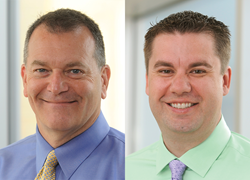 ...new, state-of-the-art Olivia location.
WILLMAR, Mn (PRWEB) August 30, 2016
Fischer Laser Eye Center has relocated its Olivia office. The former Farm Credit Services building next to Subway on 1815 Lincoln Ave has been transformed into their new, state-of-the-art Olivia location.
Dr. Mike Nagel, OD, and Dr. Tom Lenz, OD, along with the rest of the Olivia Fischer Laser Eye Center staff provide everything from low vision management to medical treatment for a wide range of eye diseases and conditions. Drs. Nagel and Lenz also provide pre- and post-operative cataract and LASIK care. The center's Eye Looks Optical department specializes in glasses and contact lens fittings, including specialty contact lenses, and offers a complete selection of customizable, affordable designer and luxury eyewear.
For Fischer Laser Eye Center's full list of locations and services, or to request an appointment with Drs. Nagel or Lenz, call 1 (800) 404-4393, or visit FischerLaser.com to learn more.