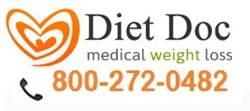 Patients that want to lose excess weight with the nation's leading medically supervised prescription hormone diet plans will benefit from supplementing their hormone diet plan with these newly formulated pure fish oil capsules
New Orleans, LA (PRWEB) October 14, 2013
Fish oil is well known to offer a multitude of health benefits, including lowering blood pressure, assuring a healthy heart, preventing stroke, reducing the frequency and severity of migraines, reducing triglycerides in cholesterol, glaucoma, painful menstruation and breast pain, as well as offering benefit for depression, psychosis, ADHD, Alzheimer's and other cognitive disorders. Too much fish oil, however, can actually increase the risk of stroke. Diet Doc's newly formulated 700 mg pure fish oil capsules take the guesswork out of the equation and allow everyone to reap the benefits of this magnificent natural oil.
Because many fish oil tablets leave a fishy aftertaste, many hesitate to make this powerhouse oil a part of their daily regimen. Diet Doc's newly formulated 100% pure 700 mg fish oil capsules are enteric coated. Patients do not report the fishy reflux because the capsule dissolves in the intestine, rather than the stomach. Patients that want to lose excess weight with the nation's leading medically supervised prescription hormone diet plans will benefit from supplementing their hormone diet plan with these newly formulated pure fish oil capsules.
Diet Doc's goal is to provide everyone that wants or must lose weight with the knowledge and the necessary tools to successfully and safely achieve their weight loss goals. All Diet Doc prescription products are developed in the company's own United States based, fully licensed pharmacies and are not available through any other retailer. By developing the prescription products within their own pharmacies, Diet Doc can ensure that only the highest quality ingredients are used and that patients are receiving only the best prescription diet products available on the market. For added convenience, all supplements, including 700 mg pure fish oil capsules, will be shipped directly to the patient's home. A Certificate of Analysis, performed by a third party laboratory, will be included in each package which details the quality and levels of each active ingredient.
Benefiting from decades of scientific research, Diet Doc offers the nation's most efficient, natural, and safe way to lose weight fast. With personally designed fast weight loss diets, each designed specific to each patient's medical, nutritional and lifestyle needs, combined with medically supervised 100% pure prescription medication, the company has helped thousands of Americans lose unwanted and unhealthy excess weight.
In addition to Diet Doc's specially formulated, pure 700 mg fish oil capsules, the company offers an impressive collection of prescription and non-prescription vitamin and mineral supplements that are essential to a safe and successful diet experience. A delicious assortment of diet foods and snacks are also available to clients.
Losing excess weight through a medically guided prescription hormone diet plan assures the safest and most successful journey possible. By providing hormone diet plans that are supervised by a team of specially trained and board certified doctors, nurses, nutritionists and coaches, Diet Doc has become the most reliable prescription hormone diet plan in the country. Now, with the ability to reach those in even the most remote locations by utilizing Skype, Telemedicine and other internet and phone options, the company has been successful in helping thousands regain good health by losing unhealthy excess weight.
Diet Doc Contact Information:
San Diego, CA
(800) 272-0482
Weight-loss(at)Dietdoc(dot)info
http://doctorsupervisedweightloss.com/testimonials.php
Twitter: DietDoc10
Facebook: DietDocNaturalHealth