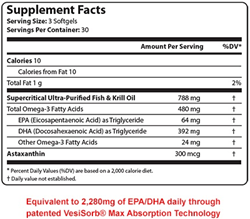 The benefits of fish oil supplements make them our #1 supplement when using a high quality product balancing the correct ratios of EPA & DHA while providing maximum absorbability.
Beverly Hills, CA (PRWEB) April 03, 2014
In The Healthy Dieter's new video they review which fish oil supplements provide the essential omega-3 fatty acids EPA & DHA the most effectively and why one also containing krill oil provides many additional health benefits. The benefits of fish oil supplements include reducing inflammation, increasing metabolism, weight loss, and eliminating joint pains. Recent research is even suggesting that taking fish oil supplements daily is more important to overall health than a daily multivitamin and people who increase their intake of omega-3's can benefit greatly. However, these benefits can only be achieved if the fish oil is being absorbed by the body, but countless products today are inadequate for many reasons that most noticeably include being under-dosed, containing excessive contaminants, and extreme rancidity.
In the video, Healthy Dieter explains that scientific studies show in order to get the fish oil supplement benefits a product must contain more than 2000mg of EPA/DHA daily. Contrarily, most of the fish oil supplements that have been reviewed contain significantly less than those amounts and are virtually worthless. Additionally, the omega-3 fatty acid DHA provides the most health benefits comprising of the ones mentioned previously and also increased eye health, anti-aging properties, and greater brain health. In spite of this, almost all current fish oil products are EPA dominant and do not even contain the right amounts of both EPA & DHA stated on their labels. The best fish oil supplements also contain krill oil because it inherently contains the powerful antioxidant, astaxanthin, which provides forty times the antioxidant benefits.
The Healthy Dieter highlights that purified fish and krill oils are wild-harvested from the cleanest waters on earth, off the coasts of Peru and the Antarctic Ocean, and this ensures the lowest achievable levels of contaminants all while being sourced in the most eco-friendly manner possible. Contaminants can increase or even cause the rancidity of oils and that causes them to become extremely inflammatory and may actually lead to more damage to the heart, skin, joints and overall health by taking it. To prevent against rancidity the top rated fish oil supplements offer many layers of protection from the effects of heat, light, and oxygen.
Simply put, with research advising that people should take a fish oil supplementation daily for multiple health benefits it is important to ensure the body is properly absorbing, in the right doses, the essential fatty acids EPA & DHA. The Healthy Dieter also mentions that products that use the triglyceride form of fish oil, the same form that naturally occurs in fish, can immediately increases absorption by as much as 300%. To begin experiencing just how easy, practical, and convenient it is to get significant quantities of health-boosting fish oil supplements the product should meet the requirements as discussed in the video review.
To learn more about the many health benefits of fish oil the Healthy Dieter has provided a free e-book titled "The 15 Worst Foods that Damage Your Heart" and inside it also contains their recommended best fish oil supplement brand and where to get it. It is available here at this link: http://fishoilsupplements.info/.