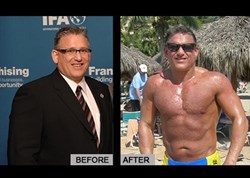 For added convenience, all supplements, including 700 mg pure fish oil capsules, will be shipped directly to the patient's home.
Phoenix, AZ (PRWEB) September 18, 2013
A study conducted at Loyola University, Chicago Stritch School of Medicine analyzed the brain cells of rats to determine if Omega-3 fish oil could help protect against alcohol-related dementia. The rats were exposed to alcohol equivalent to four times the legal limit for humans. The study revealed that high levels of alcohol overwhelmed the rat's brains, leading to inflammation and cell death. These same cells were then compared to brain cells that had been exposed to high levels of alcohol with the addition of fish oil. Results revealed that these cells showed as much as 95% less neuro inflammation and brain cell death compared with the cells that were exposed to alcohol alone. Although researchers believe that fish oil can help to preserve brain power in alcohol abusers, this is not an excuse to binge drink or drink in excess.
New research is revealing more and more health benefits for those who complement their diet with pure fish oil. Obtained from salmon, mackerel, tuna, sturgeon, mullet, bluefish, anchovy, sardines, herring, trout and menhaden, the oil from these fish provide about 1 gram of omega-3- fatty acids per 3.5 ounce serving. Because it is unlikely that most people will consume this amount of fish every day, Diet Doc developed pure fish oil capsules, assuring that everyone gets an adequate serving of this brain boosting oil.
Diet Doc's pure fish oil capsules are enteric coated. The capsules dissolve in the intestines, rather than the stomach which eliminates the fishy, smelly aftertaste or reflux. Patients who follow the Diet Doc prescription diet plans and complement their diet with 700 mg pure fish oil capsules are delivering extra protection to the heart, reducing the risk of stroke, reducing triglycerides in cholesterol, as well as strengthening the brain cells to reduce the risk of dementia later in life.
In addition to Diet Doc's specially formulated, 700 mg pure fish oil capsules, the company offers an impressive collection of prescription and non-prescription vitamin and mineral supplements that are essential to a safe and successful diet experience, as well as prescription strength diet pills to accelerate weight loss. Available to qualified patients subsequent to a satisfactory medical evaluation and doctor consultation, these diet products cannot be found on store shelves. Continuing to provide only the safest and most effective prescription diet products available on today's market, Diet Doc manufactures all prescription medications in the United States in FDA approved pharmacies. For added convenience, all supplements, including 700 mg pure fish oil capsules, will be shipped directly to the patient's home. A Certificate of Analysis, performed by a third party laboratory, will be included in each package which details the quality and levels of each active ingredient.
With such a wide variety of weight loss aids, Diet Doc has become the leading and most successful medically supervised prescription diet company in the nation by providing only top of the line, safe, natural and effective diet products and has helped thousands improve their health by losing unhealthy excess weight. By utilizing the most current technology, Diet Doc is now capable of reaching those in even the most remote regions of the country. Patients can complete the medical evaluation and physician consult, speak with specially trained and board certified doctors, nurses, nutritionists and coaches, complete progress appointments and order new, 700 mg pure fish oil capsules simply by logging onto the computer or dialing the phone.
Diet Doc Contact Information:
San Diego, CA
(800) 272-0482
Weight-loss(at)Dietdoc(dot)info
http://doctorsupervisedweightloss.com/testimonials.php
Twitter: DietDoc10
Facebook: DietDocNaturalHealth