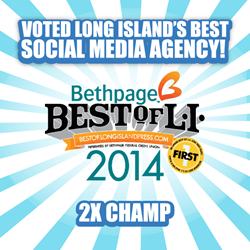 Bohemia, NY (PRWEB) January 19, 2014
fishbat, one of Long Island's top online marketing companies, responds to an article published by CBS Local on January 14, which details how a group of middle schoolers started a viral "anti-bullying" campaign on Facebook.
According to the CBS Local article titled "East Bay Middle Schoolers' Campaign Against Social Media Bullying Takes Off Statewide," the campaign started when a Facebook page was created to make fun of one of the teachers at Excelsior Middle School. A group of junior high school students decided to take matters into their own hands and try to stop cyber-bullying once and for all.
The group, named #Icanhelp, combats negative comments on Facebook with positive statements. When a negative comment is published, a member of the group attempts to offset with a positive response or reports the comment to the authorities. The article says #Icanhelp was also able to remove a fake profile about a girl at the middle school who was receiving hurtful comments. After the negative profile was removed, #Icanhelp made a supportive fan page for her so she could overcome the effects of bullying.
The article says #Icanhelp is now attempting to make this a nationwide campaign, and is currently trying to contact celebrities for endorsement. A fundraising page has also been set up, in an attempt to set up a website and marketing campaign.
Justin Maas, vice president of client relations at one of the top Long Island online marketing companies fishbat, commends the students for developing such a creative, positive way to battle cyber-bullying. "Cyber-bullying has been a serious issue for many students, especially with the rise of social media and online communication," he says. "#Icanhelp shows that social media, when used for good, can be a really powerful thing. This small act of kindness in California went viral, and it's now expanding to a national campaign to end cyber-bullying and save lives. This campaign is great and we congratulate all the students involved."
fishbat is a full-service digital marketing firm and social media agency dedicated to connecting all types of businesses with their target audiences in the most effective and efficient way. Through innovative strategies in social media management, search engine optimization (SEO), branding, web design, reputation management and public relations, fishbat promotes a consistent and professional online voice for all of its clients.