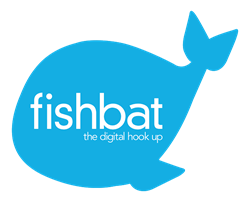 Bohemia, NY (PRWEB) February 02, 2014
fishbat, a leading Long Island marketing firm, reveals five ways small companies can use Twitter to increase followers and engage consumers.
According to a January 21st article from Geekwire.com titled "Social Media Study: Here's How the World's Top Brands Effectively Use Twitter," the world's leading companies, large and small, are using Twitter as a marketing tool, but some are doing better than others. The article examines an in-depth study from Simply Measured that looked at the Twitter activity of the Interbrand top 100, as well as that of Forbe's 100 Best Small Companies in America. The study found that 58 percent of the Interbrand companies had at least 100,000 followers, with 17 percent boasting more than 1 million followers. Only 17 percent of the small companies had at least 5,000 followers, with only three percent topping 50,000.
Further, the article notes that small companies did not tweet nearly as often as the Interbrand list. Over last quarter, 92 percent of the top brands tweeted more than once per day, compared to 44 percent of the small businesses studied. The article says the highest performing tweets from top brands included visual content.
Justin Maas, vice president of client relations at Long Island marketing firm fishbat, says the key to using Twitter effectively is to have a complete understanding of the targeted consumer and what will mobilize them to become a customer. "It doesn't matter if you are a small business or a global company, the goal is ultimately the same – to grab consumer attention," he says. "However, smaller companies may have to work harder to carve out their niche."
Maas lists five ways small companies can make the best use of Twitter:

Have a vision of how you want your company to be viewed. "A company should have a personality and you must make sure it shines through your tweets," Maas explains.
Find the keywords that are relevant to your industry and use hashtags to join conversations. "This will allow you to tap into existing consumers who are interested in what you have to say, while also staying relevant to trending topics," he says.
Tweet over the weekend. "Consumers have more time and less feed to look through over the weekend, making it more likely they will see your tweets and take action," he says.
Check out who is following your followers and start to follow them. "Very often, these people will share the interests of your original follower as they are friends.
Offer promotions for your followers. "One-time only coupons and specials are an excellent tool to activate consumers and get retweets, which leads to potential new followers," according to Maas.
fishbat is a full-service digital marketing firm and social media agency dedicated to connecting all types of businesses with their target audiences in the most effective and efficient way. Through innovative strategies in social media management, search engine optimization (SEO), branding, web design, reputation management and public relations, fishbat promotes a consistent and professional online voice for all of its clients.
#####