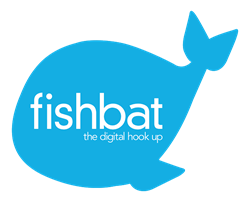 Bohemia, NY (PRWEB) March 27, 2014
fishbat, an award-winning online marketing company, discusses four tips to keep help keep a business' brand image consistent across all social media platforms.
Following a March 24th article posted on Business 2 Community titled "7 Tips For Brand Consistency Across Social Channels," while different strategies need to be implemented for each social media platform (Facebook, Twitter, Pinterest etc.), consistency in brand image must remain the same.
Justin Maas, vice president of client relations at fishbat, an award winning online marketing company agrees. "What works for Facebook may not work for Twitter. However, there must to be some sort of brand consistency. Brand consistency is one of the most important aspects of marketing. The brand's message must be unified and easily identifiable on each platform."
Maas discusses some tips on how to keep brand image consistent:
1. Get an understanding of the brand's fans. "Different demographics use different social media platforms," he explains. "They may also use these networks differently. It's important to research your target market, and decide on a strategy accordingly."
2. Decide on the brand's voice. "A great way to differentiate a brand from others is an original 'voice.' For instance, if your brand was a person, how would he or she talk? Add humor into brand language or keep it formal. It all depends on what the brand represents and what its target market is. Keep in mind that the voice will also dictate who will be attracted to the brand, so keeping the target market in mind at this stage is a must," Maas explains.
3. Update regularly. "One huge mistake brands make is not updating regularly. For example, I have seen brands post every day one week, and then only once the next. That is not a good way to attract a following," he says.
4. From offline to online. "If a brand is already successful offline, there is no need to change everything. In fact, that can be detrimental as the goal is to keep a consistent brand image. Use the same logos, color scheme, and voice in online marketing that is already being used offline," Mass concludes.
fishbat is a full-service digital marketing firm and social media agency dedicated to connecting all types of businesses with their target audiences in the most effective and efficient way. Through innovative strategies in social media management, search engine optimization (SEO), branding, web design, reputation management and public relations, fishbat promotes a consistent and professional online voice for all of its clients.
#####