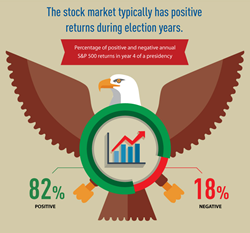 Here's a historical fact investors can find some comfort in: stock market returns are typically positive during election years—82% of the time on average.
Camas, WA (PRWEB) October 14, 2016
Fisher Investments released a new infographic showing the impact of presidential election years on market returns. The infographic illustrates average S&P 500 returns during each presidency dating back to 1929.
The current presidential candidates may speak of doom and gloom, but here's a historical fact investors can find some comfort in: stock market returns are typically positive during election years—82% of the time on average.
This pattern exists because presidents typically lose relative power at mid-term elections and legislative risk aversion is usually much higher in the second half of their terms as a result. Presidents know this and push for more major legislation in the front half when their power is likely to be greater. Stock markets generally dislike broad, sweeping legislation as it introduces uncertainty for investors. New legislation typically results in redistribution of money, property rights or regulatory changes. Research shows people hate losses much more than they like gains, so when the likelihood of legislation is higher, overall risk aversion rises—muting returns.
Which party wins the White House also has an impact on market returns. When a Democrat wins the presidential election, average S&P 500 Index returns are often lower in the election year and higher in the inaugural year, 7.4% and 16.2% respectively. When a Republican is elected, average S&P 500 returns initially soar on pro-business rhetoric then taper off the following year, 15.5% and 0.7% respectively. However, this is an unusual election with an outsider as the Republican nominee, pitted against a well-known Democratic nominee, so the trend may not apply—a factor Fisher Investments will continue weighing as the election nears.
To full view the infographic, please visit: https://www.fisherinvestments.com/market-insights/politics/elections-and-market-outcomes-infographic
About Fisher Investments
Fisher Investments is an independent, fee-only investment adviser founded in 1979. As of 9/30/2016, Fisher Investments and its subsidiaries manage over $71 billion in assets—over $35 billion for North American private investors, over $32 billion for institutional investors and over $3 billion for European private investors. Fisher Investments maintains four principal business units: Fisher Investments Institutional Group, Fisher Investments Private Client Group, Fisher Investments 401(k) Solutions Group and Fisher Investments International Group, which serve a global client base of diverse investors. The clients of Fisher investments and its affiliates include over 150 large institutions and over 35,000 high net worth individuals. Founder and Executive Chairman Ken Fisher has written the Forbes "Portfolio Strategy" column for over 32 years, and has authored several New York Times bestsellers on finance and investing. For more information, please visit http://www.fisherinvestments.com.