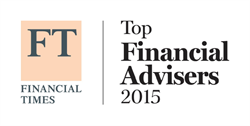 According to FT, the list provides a quantifiable and objective way to establish a group of 'truly exceptional adviser firms'
Camas, WA (PRWEB) July 01, 2015
Fisher Investments is pleased to announce it has been named on The Financial Times' (FT) 2015 FT300 list. The list recognizes the top 300 independent Registered Investment Advisers (RIAs) from across the U.S.
This is the second annual FT300 list, produced independently by FT in collaboration with Ignites Research, a subsidiary of FT that provides business intelligence on the investment management industry. According to FT, the list provides a quantifiable and objective way to establish a group of "truly exceptional adviser firms."
More than 2,000 elite RIA firms were invited to apply for consideration. To qualify for the list, advisers had to have at least $300 million in assets under management (AUM) and be registered with the Securities and Exchange Commission (SEC). Additionally, at least 25% of the firm's assets had to be from individual investors.
The firms were graded across six main criteria: AUM; AUM growth rate; years in existence; advanced industry credentials; online accessibility; and compliance records. A numeric score was then calculated for each adviser. Of those considered, 300 firms were selected for the list. There was no attempt to rank the advisers from 1 to 300—the list is presented as an "elite group of 300 RIA firms" organized by state.
Visit FT's website for the 2015 FT300 list.
About The Financial Times
FT, one of the world's leading business news organizations, is recognized internationally for its authority, integrity and accuracy. Providing essential news, comment, data and analysis for the global business community, FT has a combined paid print and digital circulation of 720,000.
About Fisher Investments
Founded in 1979, Fisher Investments is an independent, privately owned money management firm with tens of billions under management. Fisher Investments maintains two primary business units, Fisher Investments Institutional Group and Fisher Investments Private Client Group, which serve a global client base of diverse investors. Fisher Investments' clients include over 150 large institutions and over 27,000 high net worth individuals. Found and CEO Ken Fisher has written the Forbes "Portfolio Strategy" column for over 30 years, has written 11 books on investing and personal finance (4 of which are New York Times bestsellers), and was named by Investment Advisor Magazine as one of the 30 most influential industry individuals in the last 30 years (Thirty for Thirty, May 2010).