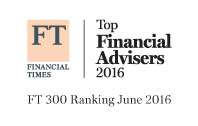 Camas, WA (PRWEB) June 17, 2016
Fisher Investments is pleased to announce it has been named one of the FT Top 300 Registered Investment Advisers for the third consecutive year. The list recognizes top independent RIA firms across the US.
This is the third annual FT 300 list, produced independently by The Financial Times Ltd. ("FT") in collaboration with Ignites Research, a subsidiary of the FT that provides business intelligence on the investment management industry. FT created the FT 300 list to provide readers with a snapshot of the best advisers in the US—"We aimed to provide a picture of leading financial advisers that would be good enough for the educated and discerning readers of the Financial Times."
More than 1,500 pre-screened RIA firms were invited to fill out a comprehensive application. FT augmented the application data with independent research and information from regulatory filings. Criteria for the assessment focused on creating a quantifiable and objective way to form a list of "established companies with deep, institutional expertise" and included total AUM, AUM growth rates as a proxy for performance, asset retention, the ability to generate new business, years in existence, compliance record, employee industry certifications and online accessibility to illustrate commitment to transparency.
Of those considered, 300 firms were selected for the list. The list is not ranked and is presented as an "elite group" of 300 RIA firms, organized by state. The average FT 300 firm has been in existence for 22 years and manages $2.6 billion in assets.
Damian Ornani, President of Client Acquisition and Service at Fisher Investments, commented, "We are honored and delighted our firm has been recognized by Financial Times for three years in a row. It is a privilege to be recognized by one of the world's leading business news organizations."
Please visit the Financial Times website for the full 2016 FT 300 list: http://www.ft.com/intl/cms/s/2/37bd6974-31b9-11e6-ad39-3fee5ffe5b5b.html
About Fisher Investments:
Founded in 1979, Fisher Investments is an independent, fee-only investment adviser with $65 billion under management (as of 3/31/2016). Fisher Investments maintains four principal business units: Fisher Investments Institutional Group, Fisher Investments Private Client Group, Fisher Investments 401(k) Solutions Group and Fisher Investments International Group, which serve a global client base of diverse investors. The clients of Fisher investments and its affiliates include over 150 large institutions and over 33,000 high net worth individuals. Founder and CEO Ken Fisher has written the Forbes "Portfolio Strategy" column for over 30 years, and has authored several New York Times bestsellers on finance and investing. For more information, please visit http://www.fisherinvestments.com/.
About the FT 300 List:
The FT 300 list is an independent listing produced by FT, based on data gathered from RIA firms, regulatory disclosures, and independent research. The list reflects each firm's performance in six areas, including assets under management, asset growth, compliance record, years in existence, credentials and online accessibility. Neither the RIAs, nor their employees pay a fee to FT in exchange for inclusion in the FT 300.
Investing in securities involves a risk of loss. Past performance is never a guarantee of future returns.