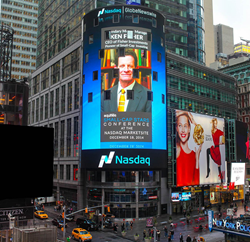 Camas, WA (PRWEB) December 18, 2014
Fisher Investments is pleased to announce its founder, CEO and Co-Chief Investment Officer Ken Fisher, will deliver the keynote speech at the inaugural equities.com Small-Cap Stars Conference. The invitation-only event will be held today at the NASDAQ MarketSite in Times Square.
Ken Fisher's investing roots are closely connected with small cap stocks, having been a pioneer helping to create small-cap value as a unique investing discipline in the late 1970s and early 1980s. Ken Fisher's bestselling 1984 book, Super Stocks, outlined the use of the price-to-sales ratio to identify unique opportunities others overlooked. Five years later, Callan Associates, a major institutional consulting firm, introduced the first small-cap value peer group for institutional investors, used to calibrate performance. Ken Fisher's firm, Fisher Investments, was one of only 12 included in this group. Today, small cap value is widely considered one of the investing world's major equity categories.
The Small-Cap Stars Conference is a platform to connect NASDAQ-listed small-cap companies with an exclusive group of top-level institutional investors. equities.com designed the event as opportunity for emerging growth and under-covered small cap companies to meet with a carefully selected audience of institutional investors, investment banks, hedge funds and Wall Street analysts. Additional event details can be found at http://www.equitiesevents.com.
About Fisher Investments
Founded in 1979, Fisher Investments is an independent, privately-owned money management firm with tens of billions under management. Fisher Investments maintains two principal business units, Fisher Investments Institutional Group and Fisher Investments Private Client Group, which serve a global client base of diverse investors. Fisher Investments' clients include over 100 large institutions and over 25,000 high net worth individuals. Founder and CEO Ken Fisher has written the Forbes "Portfolio Strategy" column for over 30 years, has written 10 books on investing and personal finance (4 of which are New York Times bestsellers) and was named by Investment Advisor as one of the 30 most influential industry individuals in the last 30 years (Thirty for Thirty, May 2010). For more information, visit http://www.fisherinvestments.com.
About equities.com
equities.com is an online financial publication and social community for self-directed investors, public and private companies, market experts and professional service providers across the global capital markets. The equities.com Issuer Dashboard is an ideal SaaS platform to effectively manage corporate communications and investor awareness campaigns, engage with market intermediaries and financial advisors and research industry peers. Registered members can leverage market-leading commentary and content curation, as well as proprietary research tools, such as Small-Cap Stars, which spotlights promising growth companies through institutional-quality algorithms and the robust do-it-yourself equities Valuations Analysis (EVA) research reports. For more information, visit http://www.equities.com.