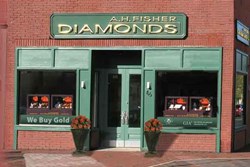 People have become savvier about how to buy jewelry because of the Internet, especially younger clients who are well-educated, serious buyers.
Red Bank, New Jersey (PRWEB) December 03, 2013
Alan Fisher is a one-man historian for the upscale city of Red Bank, New Jersey. He's a product of its school system and, for the past 30 years, the owner of A.H. Fisher Diamonds, a fine diamond and jewelry store in a plum location on Broad Street in the heart of the town's business district.
Fisher is a sort of unofficial timekeeper for the town. As a teen working in a jewelry store, one of his weekly duties was to scramble up a series of ladders and wind a three-foot-long crank to keep the borough's clock high atop police headquarters ticking. Fast forward some 40 years and Fisher is still marking the town's progress, now through the 30 years he has been the owner of A.H. Fisher Diamonds.
As he celebrates the 30th anniversary of his business this month, Fisher also pays homage to the town where he attended public school, married, raised his family, and now runs two interrelated businesses A.H. Fisher Diamonds and Claimlink Jewelry Replacement. He's a "pioneer of Broad Street," one of five remaining merchants to operate a business there for 25 years or more.
Red Bank, an hour's drive from Manhattan, is the hub of some of the wealthiest communities in the country, an upscale, service-oriented shopping area. He describes it as, "the perfect downtown shopping area," comprised of financial institutions, mom-and-pop businesses, and national franchises, such as Starbucks. In the steamboat days, Red Bank was known for its commercial businesses.
Ironically, Fisher's first store, also on Broad Street, was a stone's throw away from the mercantile his grandfather, Joseph "Joe" Ides, owned and operated for 40 years, selling confections and candy, and operating a newsstand and soda fountain on West Front Street.
But Red Bank has truly been a city of ups and downs over the years, Fisher says. "When I started out, I was lucky to find any open lease space on Broad Street. By the time my lease was up five years later, I had my choice of locations." The town had somehow lost its luster. "People were calling it 'Dead Bank'." Then, he said, a New Jersey-based regional magazine dubbed his beloved Red Bank as "the hippest town in New Jersey." It was suddenly on the map and the tide turned – vacant storefronts filled with financial institutions and high-profile eateries. "Even the bakery for The Cake Boss is opening down the street." The area is now attracting a high-level of retailers, and, thus, clients and shoppers.
And, among the many businesses are more than a handful of other jewelry stores – ranging from mom and pops to Tiffany's. So, how has Fisher managed to not only stay in business for 30 years, but thrive? "We are first and foremost service-oriented. We now have the children of people who bought their engagement rings from us coming in to purchase theirs. We are a true family-run business – my son, Matt, already has a client following and my wife, Karen, is here often keeping an eye on her boys and designing our display windows. Our roots are in the area, too. My son just bought a house within walking distance of the store." Son, Matt, has worked with his father since he was a teen and full time since 2009 when he graduated from the University of Delaware. While his daughter, Lauren, also grew up in the family business, she recently graduated from college and lives and works in New York City.
Fisher has fully embraced 21st Century technology with highly interactive websites; however, he still believes jewelry should be purchased "three dimensionally." "People have become savvier about how to buy jewelry because of the Internet, especially younger clients who are well-educated, serious buyers. The web is good if you're buying a book or a product, but when you're buying something as serious as fine jewelry – especially engagement and wedding rings - there needs to be someone sitting across from you, guiding you through the process," he said.
To enhance the shopper's comfort level, Fisher has fashioned his 2,100-square-foot store to be more like a living room that a showroom. From the display cases, to the soft colors and recessed lighting, A.H. Fisher Diamonds is viewed as a comfort zone – without snob appeal.
"Because we're on the corner, we have window displays facing two streets. I think it's one of the nicest looking stores in the county," he says with pride.
In time for the 30th anniversary celebration, Fisher has launched two new websites, one each for A.H. Fisher Diamonds and Claimlink Jewelry Replacement, which he started 20 years ago. Through a "jewel cloud," manufacturers can display their current styles and update them daily for viewing by prospective clients.
Claimlink is a national network that works with the insurance claims industry to replace lost, damaged and stolen jewelry. It is one of just a few replacement companies that specialize in diamonds and jewelry only. A 2012 burglary at his store left him shaken to this day, but with a new perspective on clients who have suffered a jewelry loss.
So what else does Fisher plan to celebrate the 30 years of his business and his beloved Red Bank beside the websites? They've added additional merchandise, plan a store-wide sale through Christmas and partnered with area businesses to provide gift certificates.
And what are the 60-year-old Fisher's plans for the future? "I have absolutely no plans to slow down. I'd like to turn over more of the daily operations to Matt. He has a contemporary following and is completing courses with the Gemological Institute of America."
And, his philosophy for running a long-standing, highly respected family business? "As has been said before, if you don't know diamonds, be sure you know your jeweler. It's an emotional purchase and we make sure you get it right."
CONTACT:
Alan Fisher Phone: 1-800-537-4700
http://www.ahfisher.com