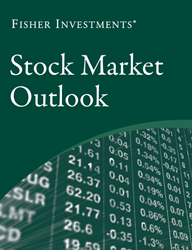 As folks look out over the next year, few fathom how strong it can be.
Camas, Washington (PRWEB) September 03, 2014
Fisher Investments released its Stock Market Outlook for the third quarter of 2014. This report details the firm's view of global market conditions, geopolitical issues and current events impacting financial markets. It also includes in-depth analysis on the upcoming 2014 US midterm elections and its potential market impact.
Following a relatively flat first quarter, global stocks enjoyed steady gains in the second quarter, boosted by economic data affirming that the economic expansion remains on track despite Q1 weather-related weakness. Markets continue to hit new highs to the disbelief of many—a sign investors have yet to fully embrace optimism, leaving plenty of room for sentiment improvement and market upside ahead.
The executive summary explains, "As folks look out over the next year, few fathom how strong it can be. Many investors remain wary of this bull market, continually checking for signs of a top. While there is always a chance some unseen risk could materialize and knock the bull off course—and we always watch for this—we don't see anything material enough to derail the many positives supporting stocks."
Fisher Investments publishes its Stock Market Outlook four times a year, written under the guidance of the firm's four-member Investment Policy Committee (IPC): CEO Ken Fisher, Vice Chairman and Co-Chief Investment Officer Jeff Silk, Executive Vice President of Portfolio Management Bill Glaser and Senior Vice President of Research Aaron Anderson. Collectively, the IPC oversees Fisher Investments' portfolio strategy for both institutional and private clients.
Click here to access the Stock Market Outlook: http://fisherinvestments.com/market-insights/stock-market-outlook
About Fisher Investments
Founded in 1979, Fisher Investments is an independent, privately owned money management firm with tens of billions under management. Fisher Investments maintains two principal business units, Fisher Investments Institutional Group and Fisher Investments Private Client Group, which serve a global client base of diverse investors. Fisher Investments' clients include over 100 large institutions and nearly 30,000 high net worth individuals. Founder and CEO Ken Fisher has written the Forbes "Portfolio Strategy" column for 30 years, has written 10 books on investing and personal finance (4 of which are NY Times best sellers), and was named by Investment Advisor magazine as one of the 30 most influential industry individuals in the last 30 years (Thirty for Thirty, May 2010).
Commentary in this summary constitutes the general views of Fisher Investments and should not be regarded as personal investment advice. No assurances are made we will continue to hold these views, which may change at any time based on new information, analysis or reconsideration. In addition, no assurances are made regarding the accuracy of any forecast made herein. Past performance is no guarantee of future results. A risk of loss is involved with investments in stock markets.