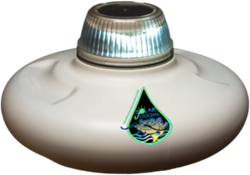 A New Fishing Experience for Freshwater Anglers
Allen, Texas (PRWEB) January 21, 2014
Solar Juggin' is a family owned company that began in 2011 as a simple idea born out of Roberta Zuch's, the founder of Solar Juggin', childhood memories. As a young girl, Roberta's parents took us to the lake every weekend to fish. As a parent, Roberta now cherishes those memories of family fishing. The idea came to me as Roberta as she was Juggin' on Lake Texoma with her aunt a few years back.
Roberta and her family set out approximately fourteen jug lines that day. The jugs Roberta used weren't very user friendly and the line kept getting tangled as they were pulling it in the boat. I thought it would be so convenient to create a device with a line that could be rolled up as the fish is brought in – something similar to a reel. As the day progressed into the evening, Roberta and her family were having so much fun that no one wanted the dark to stop them from continuing to catch fish. This is when Roberta's aunt, "I wished that we could check these lines at night – there is no telling how many fish that we could catch." And of course, Roberta agreed.
The more Roberta thought about it, she really wanted to create a product that accomplished exactly that. Not only would the jug fishing jug be visible at night, but Roberta also knew that light attracts fish. So, Roberta went to work. With Solar Juggin', Roberta has extended the daylight and the fun into the night by harnessing the power of the sun and, a company was born, Solar Juggin'.
The Solar Juggin' Team is confident this incredible product will not only provide fishermen with a more reliable, more durable, and more efficient form of jug line fishing but will also open the night to the joys of jug line fishing. The Solar Juggin' family hopes you enjoy this product and it will create many lifelong stories and memories for families fishing across the United States!
Key Advantages:
Brighter Output
Saves on Replacement Batteries
Tougher, Stronger, Longer Lasting Product
Extends Fishing into the Night
Easier Accessibility and Storage
Freedom of Being State Compliant
Provides Proof of Ownership and Contact Details
Key Features:
LED Solar Powered Light – 20,000 mCd.
Durable Design with PE Plastic
Weighs Less Than Two Pounds
Area Located at The Base for Hook & Line Storage
Easy Functionality
Complies with State Regulations
Space Allotted for Contact Information
Please visit our website at http://www.SolarJuggin.com.
To view the new product, join us at the following events:
Tulsa Boat Sport & Travel Show
January 27 – February 2, 2014
River Spirit Expo at Expo Square
Tulsa, Oklahoma
Oklahoma Tackle, Hunting & Boat Show
January 31 – February 2, 2014
Oklahoma City Fairgrounds
Oklahoma City
Sincerely,
Roberta Zuch
Solar Juggin'
http://www.SolarJuggin.com