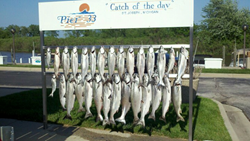 St. Joseph, MI (PRWEB) February 02, 2015
Pier 33 Marina of St. Joseph, Michigan will host the 2015 Tackle Mania Fishing Gear Swap Meet presented by the Southwest Michigan Steelheaders, Saturday February 7.
This is a semi-annual fundraiser for the Southwest Michigan Steelheaders, a regional chapter of the Michigan Steelhead & Salmon Fisherman's Association.
The swap meet will include new and used fishing gear of all types, including plenty of equipment designed for big lake angling. Visitors will be able to shop and swap for lures, rods, reels and more.
In addition a seminar will be presented at 11 am by Captain Arnie Arredondo of Phoenix Fishing Charters. Captain Arnie & the crew of the Phoenix captured the 2014 Pro Division Championship at the SW Michigan Steelheaders Schu's Summer Challenge. The subject of Captain Arnie's seminar will be "West Side Tactics Proven to Produce on East Side of Lake Michigan". Seminar attendees will receive a complimentary lunch afterwards, courtesy of Pier 33. There is a $10 fee for the seminar and a suggested $5 contribution for Tackle Mania visitors at the door. Kids12 and under can attend free.
The hours for Tackle Mania are 9 am to 1 pm and this event will be held at Pier 33, 250 Anchors Way, St. Joseph, Michigan 49085. Complete details are available at http://www.pier33.com.
Pier 33 is Michigan's largest dealer for new boats from Chaparral, Robalo & Pursuit and Pier 33 also features a wide range pre-owned boats and Pier 33 Yacht Brokerage service. Pier 33 is a full service marina with dockage, winter & summer boat storage, plus comprehensive boat repair and maintenance services.