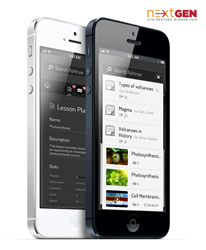 The mobile device is personal, but it's not personalized for education purposes, that's what fishtree does for every teacher and student.
Washington, DC (PRWEB) February 25, 2014
SIIA's NextGen program provides exposure to early-stage companies delivering game-changing solutions. The program aims to bring awareness to 6 verticals: Mobile, Social, Big Data, Security, Healthcare, and Financial Services. Nominating companies were judged by a group of industry experts who determined the Most Innovative, Most Disruptive and overall NextGen winner of the category.
Fishtree is a next generation learning management platform that combines learning management with content curation and personalization, to empower every teacher and engage every student. The purpose of the platform is to adapt instruction and resources for every learner, allowing the teacher to access millions of resources and build engaging lesson plans in minutes.
"Our goal is to accelerate the ability of teachers to reach their students while simplifying some of the time-consuming tasks that take teachers away from their core focus on helping students learn. It needed to be incredibly easy in a user interface that is like nothing else available in the industry. Mobile is a key part of our strategy but until now has not been truly personalized for teaching and learning. Imagine getting all your resources, open educational resources, premium and real-time content, lesson planning, reports on any computer or device and marry that with the ability to adapt to every student, well that's what Fishtree does," said Terry Nealon, CEO and Co-Founder of Fishtree.
"Much of the discussion about market disruption has focused on large, brand name businesses, but there is tremendous innovation taking place at companies that get little attention," said Rhianna Collier, Vice President of the Software Division at SIIA. "NextGen companies–chosen by a Selection Committee comprised of M&A, VC and advisory executives–are young businesses that offer cutting-edge software and services."
About Fishtree
Fishtree is a next generation learning platform, combining adaptive learning with powerful analytics, content recommendation and personalization engines to create the ultimate in digital instruction. Fishtree delivers a solution to empower teachers, engage students and support parents; with the single aim - drive better learning outcomes. The platform is leading the industry in allowing teachers to build wonderful, rich lessons and easily adapting to every learner.
Critically, Fishtree increases student engagement inside and outside the classroom, allowing for safe collaboration, personalized resources and parental support. We do this by allowing teachers to prepare lessons from multiple sources and modes of content, including open education resources and premium content, automatically aligned to learning standards and personalized for every learner. As well as being easy to use, Fishtree integrates with other systems, delivers to PC, Tablet or smart device and leads the industry on user-interface design. To learn more and get access to the system, visit http://fishtree.com.
About SIIA
SIIA is the leading association representing the software and digital content industries. SIIA represents approximately 800 member companies worldwide that develop software and digital information content. The Software Division provides a forum for companies developing the applications, services, infrastructure and tools that are driving the software and services industry forward. Through the division, executives of member companies meet to brainstorm, collaborate, and discuss the industry's latest challenges. The division's many programs offer excellent vehicles for companies to develop partnerships, boost their profile, and gain strategic insight on key issues. To learn more, visit http://siia.net/software.