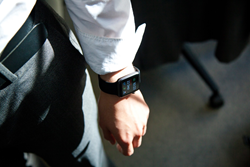 We're transforming Salesforce.com into a Health Productivity platform.
San Jose, CA (PRWEB) June 15, 2017
FitBliss, the leading corporate wellness platform for millennials, today announced at the Chicago Salesforce World Tour Event its newest platform application, FitProductivity for Salesforce, which boosts sales, service, and marketing performance based on fitness apps and wearable data. The FitProductivity platform application uses data science to predict and boost CRM performance based on wearable data & health recommendations.
"FitBliss is committed to the mission of providing impactful ways to improve the health, happiness, and productivity of the global workforce. We're transforming Salesforce into a Health Productivity platform," said Navid Rastegar, CEO of FitBliss. "FitProductivity is a game-changer in health and productivity, where employees can see a direct correlation between their fitness & health data and their CRM performance. With FitProductivity, a rep can see what their health optimals are which has proven highest output of productivity. Now getting 8 hours of sleep, 25 minutes of daily exercise, and 8,500 steps equals hitting sales quota, and possibly lead to a promotion."
Salesforce has the largest software ecosystem, worth $389B (source). With 1 in 5 Americans owning a wearable, the wearables market is projected to be nearly a $6B industry by 2018 (source). At the intersection of the health & productivity, the FitProductivity application gives employers and employees both an ROI in the form of Sales, Service, & Marketing performance based on optimizing health for their employees, where current spending is $700 employee/year on wellness incentives.
Introducing FitProductivity
With FitProductivity, Salesforce users can integrate their favorite fitness app and/or wearable (i.e. Fitbit, Apple Watch, Garmin, Strava, and more) and create goals that track their fitness progress and their CRM progress. FitProductivity provides employees with productivity-driven health tips, helping provide a personalized experience to achieve both the Fitness Goal and the CRM Goal. With machine learning, FitProductivity intelligently provides tips that have proven results of Goal achievement based on each individual sales/service/marketing rep. "Our goal is to create high performing sales, service, and marketing teams. We provide insights to employees on how to become the best version of them everyday at work through their health & fitness management," says Rastegar. Each rep has access to view how much of their historical fitness/health activities drove their personal highest levels of historical Salesforce productivity (i.e. Leads created, Opportunities Closed, Cases Closed).
As sales, service, and marketing teams feel the compounding stress of quota attainment & quantifiable KPIs, healthy habits drive a potential 19% increase in sales, 29% increase in profits, and 7% increase in customer engagement (source). Now, the reps tracking their fitness, sleep, exercise activities, and other health data have insights on how to optimize both their health & productivity together (The Optimized Employee).
Productivity-Driven Health Tips
FitBliss' FitProductivity platform will use data science to generate the most valuable health tips for employees. These health tips focus on productivity and health/fitness goals that are created by the sales/service/marketing reps. Each tip drives its value to the rep associating the tip to the health & productivity goals.
"FitTips is a revolution to health education as the value of drinking 8 glasses of water now has not only an impact in the health of the employee, but it's proven to contribute towards the success of the employee's quota achievement," says Rastegar. "Each FitTip that is provided is provided based on the science of the employee's goals, historical achievements, and time-based engagements, giving the employee what matters most to them at the time it matters most."
FitBliss has teamed with Healthwise, a leader in health content, to provide valuable & proven digital health collateral. "Healthwise is excited to be working with FitBliss to demonstrate the impact employee wellness has on overall employee performance," says Dave Mink, Chief Client Officer at Healthwise.
FitProductivity is available on the Salesforce AppExchange marketplace for Salesforce customers to implement for their Sales, Service, and Marketing teams.
More information, email: getfitproductivity(at)fitbliss.com
About FitBliss
For innovative enterprise organizations, FitBliss socially connects employees on their health and wellness, gamifying wearable devices and fitness apps, and providing productivity-driven health recommendations. With our patented millennialized corporate wellness platform, our clients have reached record high wellness participation, achieved healthiest employer recognitions, and with the FitBlissONE program raised thousands of dollars for their philanthropic initiatives. FitBliss has clients and participants ranging from companies like: J.W. Marriott, MedeAnalytics, RhythmOne, Zendesk, L'Oreal, Blue Wolf (IBM), and Yellow Pages. http://www.fitbliss.com 1.415.562.8437.
About Healthwise
Healthwise is a nonprofit organization with a mission to help people make better health decisions. People have turned to Healthwise information two billion times to learn how to do more for themselves, ask for the care they need, and say "no" to the care they don't need. Healthwise partners with hospitals, electronic medical record (EMR) providers, health plans, care management companies, and health websites to provide up-to-date, evidence-based information to the people they serve. http://www.healthwise.org. 1.800.706.9646.
About Salesforce AppExchange
Salesforce AppExchange is the world's leading enterprise apps marketplace that empowers companies to sell, service, market and engage in entirely new ways. With 3,500 partner apps and more than 4 million customer installs, it is the most comprehensive source of cloud, mobile, social, IoT, analytics and artificial intelligence technologies for businesses.
Additional Resources

Salesforce, AppExchange and others are among the trademarks of salesforce.com, inc.