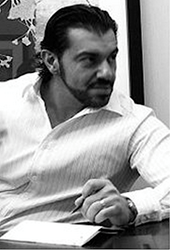 This is really just a great time to sell boot camps, especially if you offer people seasonal specials.
Chino Hills, CA (PRWEB) October 04, 2014
Bedros Keuilian took his Fit Body Boot Camp fitness boot camps from a single location to a worldwide franchise that is now the fast-selling fitness business in the US. He did so by aggressively learning and pursuing new boot camp marketing strategies, which is why he is also considered the leading expert on fitness marketing.
Keuilian recently revealed that his fitness boot camps will be taking full advantage of the next couple of months leading up to the holiday season and that other fitness boot camps and personal trainers should do the same.
"We do very, very well in the months leading up to the holiday season and we're expecting this year to be our best yet," says Keuilian. "We're forecasting a huge growth in memberships, partly because we're opening so many new locations and partly because we've got some really exciting boot camp marketing strategies in place for the next couple of months.
Keuilian adds that their strategies are based on three key factors specific to the pre-holiday period: people are looking for healthier, more useful gift ideas, many people are hoping to lose fat before the holiday season and people who are stressed by the pre-holiday rush are often attracted to services and offers that give them a chance to work off some of that tension.
"This is really just a great time to sell boot camps, especially if you offer people seasonal specials. We do a lot of special offers that give people two to four weeks of unlimited personal training for a really low price, usually $97," says Keuilian. "Then our trainers and boot camp owners spend those weeks knocking their socks off and getting them great results."
Keuilian says that it's not at all unusual to sell 80-90% of those people on long-term memberships once the special offer period comes to a close.
"The special offers are also awesome holiday gifts and we sell an awful lot of them through Groupon, Facebook, Google+ and our boot camps' individual websites," says Keuilian. "Selling those offers as gifts is a great way to generate immediate income, but then once those recipients come in, we go to work getting them great results and turning them into long-term clients as well."
Keuilian adds that another boot camp marketing technique they use at this time of the year is trading free boot camp sessions with local hair stylists, tanning salons, nutritionists, boutiques and other businesses that serve their target markets.
"We'll give them a number of two week memberships to give their staff and best customers as holiday gifts and they return the favor," says Keuilian. "It's a win-win, because we get great gifts for our valuable members and employees and so do they. Then we turn around and show those new people how great we are and sign most of them up as well."
About Keuilian Inc.
Keuilian Inc. (est. 2007) was founded by fitness marketing and business consultant Bedros Keuilian, who has been named the "hidden genius" behind several of the biggest names in the fitness industry. In addition, he is also the founder of the popular fitness marketing blog, PTPower.com, and founder and CEO of the indoor fitness boot camp franchise, Fit Body Boot Camp.
To find out more about Bedros Keuilian and his fitness boot camp franchise, please visit http://www.ptpower.com/ and http://www.myfitbodybootcamp.com/.