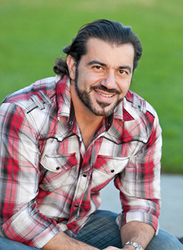 The keys to the incredible results we get for our clients are metabolic stacking and the after burn effect.
Chino Hills, CA (PRWEB) August 07, 2014
At a time when obesity, Type 2 diabetes and metabolic syndrome are at all-time highs, more and more people are hoping to burn unwanted fat as quickly as possible. Unfortunately, the majority of people who try to lose fat will fail. A new video from the international Fit Body Boot Camp fitness boot camps explains how their fat-burning program can help.
Founder and former personal trainer Bedros Keuilian explains that most people trying to lose fat are disappointed and discouraged because the programs they follow aren't actually designed to burn fat.
"Recently, there was a study published in the McTiernan Obesity Journal that showed that people doing an hour of aerobics, five times per week for twelve months only lost an average of 3.5 pounds," says Keuilian. "This just confirms the results of a study published a while back in the International Sports Nutrition Journal."
As Keuilian explains in his new video, participants in that three-month study did forty-five minutes of cardio five times per week, yet they didn't lose any more fat than people who simply went on a diet for three months. In other words, all of that hard work was for naught.
Keuilian joins many other fitness experts who say that the idea of using cardio to burn significant fat was debunked long ago. Because of this, Keuilian and his team of personal trainers developed their Afterburn Workout to deliver twice the fat loss in half the time, without endless cardio.
"The keys to the incredible results we get for our clients are metabolic stacking and the afterburn effect," says Keuilian. As he explains in more detail in his video, metabolic stacking is the strategic combination of high-intensity interval training and functional resistance training, which are fundamentals of the fitness boot camp's workouts. The afterburn effect is the increased metabolic rate that continues for as long as 28 hours after the workout.
"The afterburn effect occurs because of constantly changing exercises and varying tempo and intensity levels during the workout," says Keuilian. "This depletes the body's oxygen stores, which leads to several hours of what's called oxygen re-uptake. In order to replenish its oxygen stores, the body's metabolism runs much higher."
Because of the intensity of the workouts, clients are able to work out for only 30 minutes per session, yet realize twice the fat loss in half the time of standard cardio and big gym aerobics classes. In fact, the results are so consistent that the fitness boot camps offer a 100% Money Back guarantee. If at any time during the first thirty days a client doesn't feel they're getting the best workout they've ever had, Fit Body Boot Camps will refund their money.
"We believe in what we offer because we know that our program is based solely on proven scientific research, not on trends or 'celebrity science'," says Keuilian.
About Keuilian Inc.
Keuilian Inc. (est. 2007) was founded by fitness marketing and business consultant Bedros Keuilian, who has been named the "hidden genius" behind several of the biggest names in the fitness industry. In addition, he is also the founder of the popular fitness marketing blog, PTPower.com, and founder and CEO of the indoor fitness boot camp franchise, Fit Body Boot Camp.
To find out more about Bedros Keuilian and his fitness boot camp franchise, please visit http://www.ptpower.com/ and http://www.myfitbodybootcamp.com/.